Winter Break Family Camp
December 27, 2022 – January 1, 2023
Fun for the whole family with counselor-led adventures, family and adult-only time, a magical Shabbat and a rockin' New Year's celebration.
Rest, play, learn and hang out with new and old friends, while we take care of the cooking, cleaning and entertainment. Give yourself a break at Winter Break Family Camp! Let our counselors take your children on adventures around Camp and enjoy family-fun activities together. Ring in the New Year with a rockin' kids party as well as an adult-only celebration.
This all-inclusive event is designed for families with children of all ages.
Please note all eligible individuals must be fully vaccinated against Covid-19 prior to arriving on our campus. See our COVID-19 Prevention Protocols.
Winter Break Family Camp offers an opportunity to experience the magic of Ramah Darom together, as a family. Here connections are made, laughter abounds and each day brings new opportunities to celebrate Jewish life.
What you can look forward to: 
Mornings filled with family-time activities and games.
Afternoon Gan (ages 0-3), Kids Camp (ages 4-12) and Etgar (ages 13-16) programs led by our STELLAR summer Camp counselors and specialists.
Outdoor adventures and fitness, complete with hiking, ropes courses, archery, yoga and more.
Fun, and inspirational adult programs with professional artists and educators.
A Ramah Darom style Shabbat celebration.
Healthy, delicious and Kosher chef-prepared meals.
Plenty of time to relax on the porch, marvel at the beautiful mountains, a mug of locally-sourced coffee (or tea!) in hand.
2 rockin' New Year's Eve parties, 1 for kids and 1 for adults only.
WBFC 2021 photos
WBFC 2021 Program Guide
Cabins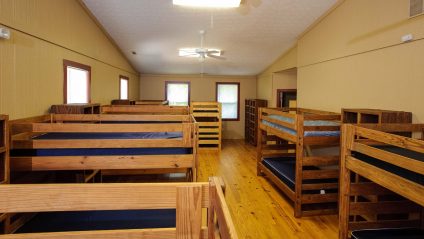 Cabins are spacious and nestled throughout the campus. Each cabin offers a dorm-style bunking area and private twin rooms. Linens are provided but beds are not made up. Some cabins are single-family with a private bunk room and bathroom for your family, others are multi-family style where two families share a bathroom area and bunk beds but parent rooms are still private. Requests for single vs. multi-family cabin styles are first come, first served but not guaranteed. Cabin reservations are available for parties with three paid participants or more.
Hotel Rooms
These rooms feature two queen beds and a private bathroom. Additional rooms are available for larger families at a discounted rate.
No roll-away beds are available, but we do offer Pack N' Plays.
We will do our best to accommodate housing requests on a first-come, first-served basis, but cannot guarantee. 
Cottages
Our most luxurious accommodations! Beautiful studio-style houses with a kitchenette, private patio, bathroom with walk-in shower and king-sized bed. Four 1-bedroom cottages are available.
2021 Rates & Payment Information
All-inclusive rates are per person and include all meals, snacks, drinks and activities. Payment is due in full 1 month before the program start date.
| Guests | Accommodation & Add Ons | Price |
| --- | --- | --- |
| Adults & Children (4+) | Cabins & Hotel Rooms | $400 per person |
| Children (ages 1-3) | | $150 per person |
| Children (under 1) | | FREE |
| | Additional Hotel Room | $200 |
| | Cottage Upgrade | $300 |
| | Mini Fridge | $25 |
| | Pack N' Play | FREE |
Cancellation Policy: All cancellations are subject to a 3% processing fee. Cancellations made after November 13th will be refunded 50% of registration total. No refunds will be made after December 14th.
Immunizations & Other Policies
Immunization Policy
Guests attending a Ramah Darom Retreat must provide confirmation that they have read the Ramah Darom Immunization Policy and are up-to-date on all required vaccinations. Retreat registration forms will ask guests to certify that they, and all members of their immediate family attending a Retreat, meet all immunization requirements. We will not require guests to submit their medical records except in exceptional circumstances.
Note that not all states have the same requirements, but ALL vaccinations recommended by the ACIP are required at Ramah Darom Retreats.
Covid-19
Ramah Darom requires all attendees, staff and visitors who are eligible to be vaccinated against COVID-19 to complete full vaccination two weeks prior to the beginning of the program they are attending. This includes the Covid booster where indicated.
Please also see our COVID-19 Prevention Protocols.
Pet Policy
Please note that NO pets of any kind may join you for your stay onsite, for any length of time.
Highlighted Musician & Educators
More information coming soon!
Ramah Darom is two hours from Atlanta, in Clayton, GA.
Here are more ways to experience Ramah Darom as a family:
Book It To Shabbat with PJ Libary, a fun-filled Shabbaton where the magic of Camp and PJ Library characters are brought to life. Now including a PJ Our Way Track;  Summer Family Camp, a Camp test drive while Summer Camp is in session; Camp Yofi for families with children with Autism Spectrum Disorder.
Questions?
Contact
Rebecca Guttman
Guest Relations & Sales Associate
Phone: 470.231.0792
Email: rguttman@ramahdarom.org
Venue
Ramah Darom: 70 Darom Lane, Clayton, GA 30525