Book It To Shabbat with PJ Library
Sunday, October 15-17, 2021
A fun-filled Shabbaton, for families with children 12 and under, where the magic of Camp and PJ Library characters are brought to life. Now including a PJ Our Way Track.
The New PJ Our Way Track for kids 8-12
with special activities and a PJ Our Way Book Club
Music and Dancing with Eliana Light
2nd Annual PJ Games with Your Favorite PJ Library Characters
Storytime and Scavenger Hunts
Nature Hikes to Our Waterfall
Kid-Friendly Shabbat Services
Arts and Crafts
Playtime in Sammy Spider's "web"
PJ Our Way Book Club
Parents-Only Porch Parties
Check out a sample schedule.
All-inclusive rates are per person and include all accommodations, food, drinks and activities.
Guests ages 2 and older: $118
Guests under 2 years: $36
Additional hotel room: $100
Mini-Fridge: $25
Pack N' Play: FREE
Cancellation Policy: Cancellations made after Sep. 1st will be refunded 50% of registration total. No refunds will be made after Oct. 1st.
Housing Descriptions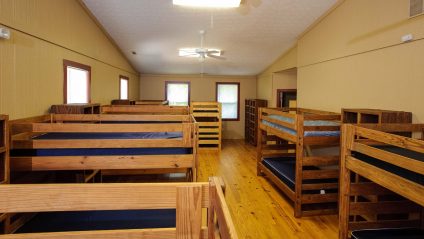 Cabins: All of our cabins are heated, have ceiling fans and feature a spacious, screened-in porch. Cabins are camp-style, with a private room for parents and the main room for kids, with a bathroom of multiple stalls, showers, and sinks. Linens and towels are provided for our cabin guests.
Hotels: Ramah Darom has 4 hotels on site. All hotel rooms have a private bathroom, table and chairs, heating and air conditioning, complimentary toiletries, and bed and bath linens. Most rooms have 2 queen beds, a few have 1 king bed or 2 full beds. If there are a minimum of 3 people in your party and you would like a separate hotel room for your children, you may request a next-door room for an additional $100.
2020 Musician in Residence
Eliana Light
Through meaningful music, powerful prayer, excellent education, and creative consulting, Eliana works with Jewish communities worldwide to unlock the wonders of our sacred heritage. She is the author of Hebrew in Harmony, a curriculum published by Behrman House that teaches prayer and Hebrew through music, and the founder and director of the G!D Project, an educational initiative focused on accessible, meaningful conversations about G!D and spirituality through ritual, text, and creative expression. Eliana received her Masters in Jewish Experiential Education from the Davidson School at JTS in 2016 and is based in Durham, NC. Learn more Eliana at www.elianalight.com.
Look through our photo gallery to get a taste of the magic.
Here are more ways to experience Ramah Darom as a family:
Winter Break Family Camp, Camp for the whole family with counselor-led adventures, a magical Shabbat and a rockin' New Year's Eve; Summer Family Camp, family fun and a Camp test drive while Summer Camp is in session; Camp Yofi for families with children with Autism Spectrum Disorder.
Questions?
Becca Guttman, Guest Relations Coordinator
Phone: 470.231.0792
Email: rguttman@ramahdarom.org
Venue
Ramah Darom: 70 Darom Lane, Clayton, GA 30525
Phone: (706) 782-9300