Book It To Shabbat with PJ Library
Sunday, October 15-17, 2021
A fun-filled Shabbaton, perfect for families with young children 8 and under, where the magic of Camp and PJ Library characters are brought to life. This program now includes a PJ Our Way Track for older siblings, ages 9-12!
Please note, all individuals aged 12 years and older must be fully vaccinated against Covid-19 prior to arriving on our campus. Please see our COVID-19 Prevention Protocols.
Music and Dancing with Michael Levine of Sun Moon Pie
PJ Games with Your Favorite PJ Library Characters
Storytime and Scavenger Hunts
Nature Hikes to Our Waterfall
Kid-Friendly Shabbat Services
Arts and Crafts
Playtime in Sammy Spider's "web"
Parents-Only Porch Parties
Check-in: October 15, 3:00-5:00pm
Check out: October 17, 11:00am
All-inclusive rates are per person and include all accommodations, meals, snacks, drinks and activities.
Guests ages 2 and older $118
Guests under 2 years $36
Additional hotel room $100
Mini-Fridge $25
Pack N' Play FREE
Cancellation Policy: We understand the challenges of planning and committing to an in-person experience these days. Our policy has been designed to provide you with the latest possible cancellation dates before we are unable to accommodate a refund. All cancellations are subject to a 3% processing fee. Cancellations made after September 1 will be refunded 50% of registration total. No refunds will be made after October 1. This policy includes cancellation due to quarantine after exposure or the result of a positive COVID test.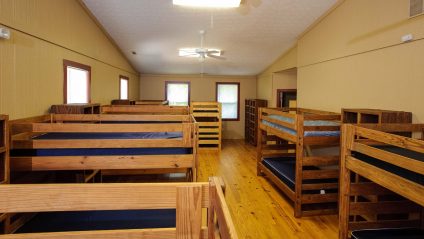 Cabins: All of our cabins are heated, have ceiling fans and feature a spacious, screened-in porch. Cabins are camp-style, with a private room for parents and the main room for kids, with a bathroom of multiple stalls, showers, and sinks. Linens and towels are provided for our cabin guests.
Hotels: Ramah Darom has 4 hotels on site. All hotel rooms have a private bathroom, table and chairs, heating and air conditioning, complimentary toiletries, and bed and bath linens. Most rooms have 2 queen beds, a few have 1 king bed or 2 full beds. If there are a minimum of 3 people in your party and you would like a separate hotel room for your children, you may request a next-door room for an additional $100.
2021 Musician in Residence
Michael Levine is a singer-songwriter & music geek who loves to create & inspire.
He is a prolific creator with 4 CDs as a singer-songwriter and 6 CDs for children through his music & movement company The Learning Groove.  In the studio, he produced the music for the NY Times bestselling Pete The Cat picture books by Eric Litwin & James Dean.  In concert he moves effortlessly between heartfelt folk tunes, silly sing-alongs & just rockin' out, creating community and leaving his audiences inspired to learn & grow.  And don't forget the gadgets!  He uses iPads, iPods, foot pedals, screens, projectors, his guitar & percussion loops on stage while singing out loud or soft, telling musical stories and getting the crowd to join in together.  
Look through our photo gallery to get a taste of the magic.
Here are more ways to experience Ramah Darom as a family:
Winter Break Family Camp, Camp for the whole family with counselor-led adventures, a magical Shabbat and a rockin' New Year's Eve; Summer Family Camp, family fun and a Camp test drive while Summer Camp is in session; Camp Yofi for families with children with Autism Spectrum Disorder.
Questions?
Becca Guttman, Guest Relations Coordinator
Phone: 470.231.0792
Email: rguttman@ramahdarom.org
Venue
Ramah Darom: 70 Darom Lane, Clayton, GA 30525
Phone: (706) 782-9300