Jewish Women's Getaway
Wednesday, November 7-10, 2021
Jewish Women's Getaway at Ramah Darom is an all-inclusive, women-only, kosher retreat in the North Georgia mountains. This fun-filled women-only experience is all about self-expression, connection, exploration, delicious kosher food and so much more, with plenty of time to rest, relax and enjoy our 185-acre breathtaking Kaplan Mitchell campus in Clayton, Georgia.
Jewish Women's Getaway looks to build connections and community for Jewish Women while delving into our rich tradition and exploring it through art, music and other creative mediums. We hope to inspire women to explore their unique Jewish journeys while enjoying nature, adventure and delicious, healthy kosher cuisine. 
What you can look forward to: 
Kavannot

/

Track Times: Immersive tracks in art, theater/comedy, writing and music led by professional artists and educators to help us explore our theme of Blessings

. 

  

 

 

Chugim/Elective Activities: Outdoor adventures and fitness, complete with hiking, ropes courses, yoga and more, arts and crafts, and 

participant-led sessions.

Community 

Sicha

/

Conversation Time: 

Dive into meaningful conversations about this year's theme of "Blessings".

Z'

man

 

Keyf

/

Social/Fun Times: 

Evenings, meals and afternoon wellness hours provide an opportunity for YOU time. Connect with friends, new and old, take a walk or just 

relax on the porch, marvel at the changing leaves, a glass of wine in hand.

 
Check out our photo gallery to get a taste of the magic.
Rabbi Danielle Upbin: Originally from New York City, Rabbi Upbin graduated with honors from Barnard College, Columbia University, with a BA in Political Science and Minor in Theater. She was ordained from the Jewish Theological Seminary of America in 2002 also having received a Masters in Hebrew Letters. She has served as rabbi-in-resident at numerous Conservative congregations around the country, teaching about prayer and leading services. She was also a chaplain in the Disaster Services for the Red Cross after 9/11 in New York City.
In addition to her rabbinic studies, Rabbi Upbin is a professionally trained singer and a past member of the Screen Actors Guild. Leading Jewish prayer in a joyous and soulful manner is one of Rabbi Upbin's passions. Currently, Rabbi Upbin is the Associate Rabbi and Shlichat Tzibur (prayer leader) at Congregation Beth Shalom in Clearwater, FL. She has studied meditation, Hassidism and yoga with the Institute for Jewish Spirituality, among other places, and brings a spiritual and uplifting dynamic to her leadership. She is actively involved in a local Interfaith Coalition, Pinellas County Board of Rabbis, Hadassah, and has served on the board of the Florida Holocaust Museum in St. Petersburg.
Rabbi Upbin resides in Clearwater, FL with her husband, Rabbi David Weizman, and their four children.
Past Highlighted Artists & Educators
Jackie Gold was raised on the tough middle-class Jewish streets of Brooklyn, NY. Growing up in a conservative- Jewish home meant having to develop a quick sense of humor and a sharp tongue.
She started her journey as a dancer which parleyed into a love of theater. She attended Brooklyn College before traveling out west to California to continue her career.
Jackie has been working as a stand-up comic for the past decade. In 2018, she released her first comedy album "Maximum Occupancy" which debuted at #1 on Amazon and iTunes. She has been a writer for CBS, Comedy Central and VH1.
Sarah Klegman is a creative writer, storyteller and founder of the carb-loving community, Challah Hub. You may have seen her in video collaborations with Buzzfeed, or during one of her enthusiastic appearances of arguable significance on Comedy Central, The Great British Baking Show on PBS or on KTLA. She regularly performs in live shows around NY and LA, as well as in Jewish learning festivals all over the world. Her podcast series, "What's Wrong With You?" aired on the Awkward Human network last year, and her work has been featured in The Huffington Post, The LA Times, The Dodo, XO Jane, Grok Nation and more.
Sarah just finished writing her first book last year and is currently developing her first solo live show. In addition to being a writer, storyteller, podcaster, and co-founder of Challah Hub, she is also Head of Creative Content for the Jewish women's wellness nonprofit, At The Well. No, *you* never sleep.
Eliana Light works with Jewish communities worldwide to unlock the wonders of our sacred heritage through meaningful music, powerful prayer, excellent education and creative consulting. She is the author of Hebrew in Harmony, a curriculum published by Behrman House that teaches prayer and Hebrew through music, and the founder and director of the G!D Project, an educational initiative focused on accessible, meaningful conversations about G!D and spirituality through ritual, text and creative expression. Eliana received her Masters in Jewish Experiential Education from the Davidson School at JTS in 2016 and is based in Durham, NC.
Anita Stein is an artist who specializes in drawing and landscape pastels.  Her art is in a number of local galleries. Anita taught art for fifteen years at Atlanta Jewish Academy and she ran the art department at Camp Stone, a Jewish camp in Pennsylvania, for many years. She is a passionate teacher who loves to integrate Judaic text into art.
Anita has paintings at the Raiford Gallery in Roswell, at Circa in Tyrone GA and on her Etsy store, 
Dust and Smudge
.
Music Track with Eliana Light
Music has the power to move our spirits and touch our souls. In the sacred music track, we'll explore the interplay between text, melody and emotion. We will learn melodies for common and uncommon blessings, and write our own. No instrument or singing experience required-just a song in your heart! 
Writing Track with Sarah Klegman
Join a group of people looking to dig deep and share big. A joyful and honest journey of personal discovery and an exercise in vulnerability, the JWG writing track will challenge you to uncover meaningful moments in your life and put those experiences into words. Together we'll explore the theme of blessings and share stories that will help us grow and inspire others. Come with an open heart and a willingness to connect. No writing experience necessary.
Theater/Comedy Track Leader with Jackie Gold
The power to entertain and make others laugh has always lived deep down in the Jewish geneology. It has been our coping mechanism for generations; L' Dor va Dor. Experience the power of play, and the fun of improvisation in the JWG Theater/Comedy Track. We will dive deep into the various themes of blessings, what they mean to us as a group and as individuals in a fun and safe environment filled with laughter. Together we will create something special to share at the final JWG Showcase!
Art Track with Anita Stein
Together we will explore the theme of Blessings through the art of printmaking. Each participant-artist will create a visual version of their chosen blessing with a simple, fun printmaking project. You DO NOT need to be able to draw to enjoy this class! You DO need to be able to explore something new!
Housing Descriptions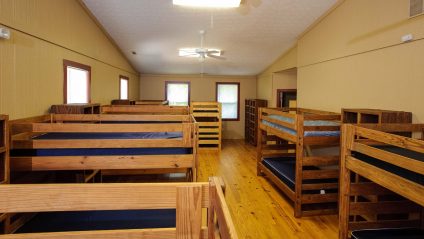 Cabins are spacious and nestled throughout the campus. Each cabin offers a dorm-style bunking area and private twin rooms with shared stalls, showers, and sinks. All cabin rates are based on shared space. Linens are provided but beds are not made up. *Private room within the cabin is available on a first-come basis.
All hotel rooms have a private bathroom, table, and chairs, heating and air conditioning, complimentary toiletries, and bed and bath linens. These hotels are located up a steep hill with stairs, boardwalk and walking paths to the main areas of the campus. Standard rooms have two queen beds. Some connecting rooms are available.
Deluxe hotel rooms are larger rooms with either 2 queen beds or 1 king bed, a deluxe tub and a mini-fridge. The deluxe rooms in the Welcome Center are an easy, flat walk to the Levine Center where meals are served and most of the action takes place. Some connecting rooms are available.
All cottages are brand new with a kitchenette, private patio, bathroom with walk-in shower, king-sized bed and sleeper sofa. These beautiful cottages are located on our new boardwalk with both stair and ramp access to the main areas of the campus. There is a minimum of two people per cottage.
2019 Pricing
All-inclusive price is per person for 3 nights and is based on accommodations. Price includes all housing, meals, snacks, drink and activities. 
| HOUSING | PRICES |
| --- | --- |
| Group Cabin | $405.00 |
| Standard Hotel - Double Occupancy | $445.00 |
| Standard Hotel - Single Occupancy | $560.00 |
| Deluxe Hotel - Double Occupancy | $490.00 |
| Deluxe Hotel - Single Occupancy | $620.00 |
| Cottage - Double Occupancy | $575.00 |
| Cottage - Single Occupancy | $690.00 |
Travel, Arrival and Departure
More information coming soon.
Becca Guttman, Guest Relations Coordinator
Phone: 470.231.0792
Email: rguttman@ramahdarom.org
Venue
Ramah Darom
70 Darom Lane
Clayton, GA 30525
Phone: (706) 782-9300
Elissa Vessal, FL

"Mountain Air, Perfect Fall Colored Leaves, Cocktails Before gourmet dinner and lots of really fun ladies. Each year I count the days to go back to JWG no different than a kid anticipating summer camp."