Jewish Women's Getaway
Save the Date: November 6-9, 2022
Reconnect with others, rediscover community, express your creativity, enjoy inspiring sessions and have FUN! 
Jewish Women's Getaway (JWG) at Ramah Darom is an unforgettable experience and an opportunity to explore your unique Jewish journeys through art, music, comedy and culinary creations, build community and have fun in the North Georgia mountains.
During this 4-day, 3-night getaway, you'll enjoy delicious, healthy kosher cuisine prepared by Ramah Darom's Executive Chef, comfortable hotel, cabin or cottage accommodation, a variety of classes and all the beauty that surrounds you on our 185-acre breathtaking Kaplan Mitchell campus in Clayton, Georgia.
Please see our COVID-19 Prevention Protocols.
Registration is now closed for JWG 2021. Please contact Rachel Herman with questions. 
Jewish Women's Getaway looks to build connections and community for Jewish Women while exploring our rich Jewish culture and traditions through art, music and other creative mediums. Ramah Darom hopes to inspire women to explore their unique Jewish journeys while having FUN, building community and enjoying nature, adventure and delicious, healthy kosher cuisine. 
This year's theme is Yesod (Foundation). More than just a baseline, the power of Yesod is one of connection, a Kabbalistic attribute that grounds us through the movements of time and changes in our lives. Whether you have gone through a major shift recently or you are looking for new ways to grow, this year's Jewish Women's Getaway is an opportunity for you to connect with yourself and others and explore your Yesod.
What you can look forward to: 
Kavanot

/

Track Times: Immersive tracks in art, music, storytelling and culinary creations led by professional artists and educators.

  

 

 

Chugim/Elective Activities: Outdoor adventures, fitness, hiking, ropes courses, archery, yoga, art and

more.

Community 

Sicha

/

Conversation Time: 

Dive into meaningful conversations.

Z'

man

 

Keyf

/

Social/Fun Times: 

Evenings, meals and afternoon wellness hours provide an opportunity for YOU time. Connect with friends, new and old, take a walk or just 

relax on the porch, marvel at the changing leaves, a glass of wine (or tea) in hand.

 
Check out our photo gallery to get a taste of the magic.
Rabbi Lauren Henderson
Spiritual Leader
Rabbi Lauren Henderson originally hails from Spartanburg, SC, and recently returned to her southern roots as the rabbi of Congregation Or Hadash in Atlanta, GA.
She earned her BA from Rice University in 2009 in Religious Studies and History and studied at the Pardes Institute in Jerusalem and the Ziegler School of Rabbinic Studies in Los Angeles before transferring to the Jewish Theological Seminary in New York. She was ordained from JTS in 2016 with an MA in Midrash and a Certificate in Pastoral Care. Rabbi Lauren was part of the Jewish Emergent Network Rabbinic Fellowship at Mishkan Chicago from 2016-2018 and then served as Mishkan's Associate Rabbi and Director of Family Learning and Spirituality from 2018-2020.
She is passionate about the intersections of mindfulness, Torah, music, and Tikkun Olam, and finds her connection to the Divine on hiking trails, in hospital rooms, and in moments of vulnerability. She is married to Joel Dworkin, an outdoor experiential educator and a brilliant home chef, and they have an adorable dog named Sophie.
Eliana Light
Music Track Leader
Eliana Light works with Jewish communities worldwide to unlock the wonders of our sacred heritage through meaningful music, powerful prayer, excellent education and creative consulting. She is the author of Hebrew in Harmony, a curriculum published by Behrman House that teaches prayer and Hebrew through music, and the founder and director of the G!D Project, an educational initiative focused on accessible, meaningful conversations about G!D and spirituality through ritual, text and creative expression. Eliana received her Master's in Jewish Experiential Education from the Davidson School at JTS in 2016 and is based in Durham, NC.
Liz Alpern
Culinary Track Leader
Liz Alpern is co-author of  The Gefilte Manifesto: New Recipes for Old World Jewish Foods (Flatiron Books, 2016) and co-owner of The Gefilteria, a food venture that's been reimagining Old World Jewish Foods since 2012. She is also the creator of Queer Soup Night, a global event series highlighting the talent of queer chefs and raising funds for locally-based social justice organizations. Liz received her MBA from Baruch College's Zicklin School. Her passion for food extends to the world of food systems, and she serves as a consultant for the national non-profit organization, Fair Food Network. Liz lives in Brooklyn, NY.
Judy Robkin
Mixed Media Arts Track Leader
A native Atlantan, Judy is a professional studio potter. Her work is shown in numerous juried shows and galleries. In addition to her time at Ramah Darom, she teaches Clay Handbuilding to adults at the John C. Campbell Folk School in Murphy, North Carolina, and enjoys sharing her love of art with her students. At Ramah Darom, whether teaching drawing, painting, clay or fabric arts, she encourages creativity and individuality to seasoned artists as well as to beginners. Judy's work can be found on her website and her Etsy store.
McKenzie Wren

Collage Making Track Leader
McKenzie Wren, MPH, is the part-time Program Manager for the Southern Jewish Network for Gender and Sexual Diversity (SOJOURN) and Chief Engagement Officer for her independent consulting firm, Wren Consulting: Culture on Purpose.  Her particular area of focus is helping businesses and nonprofits create cultures of collaboration and inclusion. She incorporates the arts into her work as well as having a side hustle as a teaching artist. She is a Mindful Moments leader at Congregation Bet Haverim, co-leader of a Jewish women's spiritual circle, and lives with her fellow artist spouse in Atlanta.
Caroline Figiel
Storytelling Track Leader
Caroline Figiel loves discovering a good story whether it's reading a Jewish Folktale or listening to a friend over coffee.  With a Masters in Special Education and a professional background in musical theater, she is an edu-tainer, as well as an award-winning producer. Caroline has presented storytelling concerts and workshops for Jewish organizations, teachers, media specialists, and counselors throughout the country.
For several years, she served on Georgia's Product Development team helping small communities across the state collect and preserve their unique stories.
As an audio tour producer, Caroline develops and produces audio stories on a wide variety of subjects from Bootlegging to Biltmore Estate.
Music with Eliana Light
Mixed Media Arts with Judy Robkin
Colleague Art McKenzie Wren
Storytelling through Theater and Comedy with Caroline Figiel
Culinary Art with Liz Alpern
See "Highlighted Educators & Artists" for more information about our amazing JWG 2021 Kavannot (Track) leaders.
Shared Cabins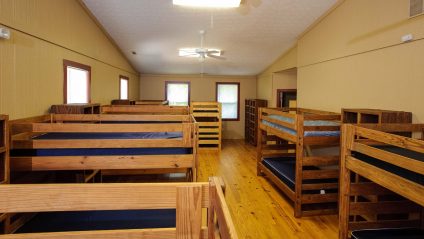 Cabins are spacious and nestled throughout the campus. Each cabin offers a dorm-style bunking area and private twin rooms with shared stalls, showers, and sinks. All cabin rates are based on shared space. Linens are provided, but beds are not made up. The private room within each cabin is available on a first-come basis.
Hotel Rooms
We have four hotels on our 185-acre campus.
All hotel rooms have a private bathroom, a table and two chairs, heating and air conditioning, complimentary toiletries, and bed and bath linens.
Marcus Lodge (ML) and Mountainside Hotel (MSH) hotels are located up a steep hill with stairs, boardwalk and walking paths to the main areas of the campus. These standard hotel rooms each have a bathtub shower. Some connecting rooms are available. 
The Welcome Center (WC) and Lakeside Hotel (LH) hotel rooms are larger with either 2 queen beds or 1 king bed and a deluxe tub. Some connecting rooms are available.
The Welcome Center is an easy, flat walk to the Levine Center where meals are served and most of the action takes place. The Lakeside Hotel is up a steep hill close to the lake and not far from the Levine Center.
Cottages
Our most luxurious accommodations! Beautiful studio-style houses with a kitchenette, private patio, bathroom with walk-in shower, a king-sized bed and a sleeper sofa. Four 1-bedroom cottages are available, and there is one 2-bedroom cottage available. The 2-bedroom can be reserved as either two single adult rooms, one single and one double adult, or two double adults. These beautiful cottages are located on the mountainside of our campus off right near the boardwalk with both stair and ramp access to the main areas of the campus.
2021 Pricing
All-inclusive price is per person for 4 days, 3 nights and is based on accommodations. Price includes all housing, meals, snacks, drink and activities. 
$500 Shared Cabin
$600 Shared Hotel Room
$700 Single Hotel Room or Shared Cottage
$800 Single Cottage
Cancellation Policy: We understand the challenges of planning and committing to an in-person experience these days. Our policy has been designed to provide you with the latest possible cancellation dates before we are unable to accommodate a refund. All cancellations are subject to a 3% processing fee. Cancellations made after September 27 will be refunded 50% of the registration total. No refunds will be made after October 25. This policy includes cancellation due to quarantine after exposure or the result of a positive COVID test.
Contact:
Rebecca Guttman
Guest Relations & Sales Associate
Phone: 470.231.0792
Email: rguttman@ramahdarom.org
Venue
Ramah Darom
70 Darom Lane
Clayton, GA 30525
Elissa Vessal, FL

"Mountain Air, Perfect Fall Colored Leaves, Cocktails Before gourmet dinner and lots of really fun ladies. Each year I count the days to go back to JWG no different than a kid anticipating summer camp."