Southern Schmooze Shabbaton
Celebrating and Connecting Small Jewish Communities in the South
Sunday, February 4-6, 2022
Southern Schmooze at Ramah Darom is an opportunity for participating southeast synagogue communities to connect as a congregation and celebrate Jewish life as a region. 
Please see our COVID-19 Prevention Protocols.
Our Southern Schmooze Shabbaton will provide opportunities for you to sing, eat, learn and play with members from your home congregation while also giving you the chance to connect with small Jewish congregations from around the Southeast. Come together to share in the joys and challenges of being a part of a growing and vibrant Southern Jewish Community!  
The weekend will be complete with spirited prayer services, kids programming, delicious kosher food and evening childcare for our youngest participants.  
*Transportation around campus will be available during the program for those needing mobility assistance. 
Housing Descriptions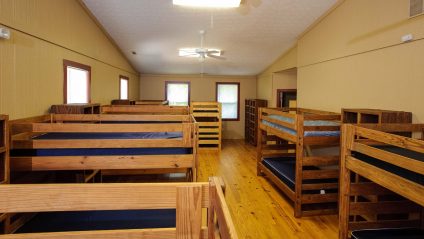 Community Cabins are modern, heated cabins with hardwood floors and a screened-in porch and communal center room. Each Community Cabin will house four families or couples. There are 4 private rooms per Cabin, with two twin beds for the adults, dorm-style bunk beds for children, and 2-4 bathroom areas with walk-in showers. They have space for children to play and gather with friends. Bed and bath linen sets will be provided. Community Cabins are ideal for congregations to share among members, and have been priced at a discounted price of $500 per family (2 adults and up to 5 children).  
All hotel rooms have a private bathroom, table and chairs, heating and air conditioning, complimentary toiletries, and bed and bath linens. Most hotel rooms have 2 queen beds, some have 1 king or 2 full beds. 
2020 Pricing
Pricing is based on accommodations.
Housing
Pricing
Cabin
$500/Family
2 adult and up to 5 children

$250/additional adult

Adult-Hotel Double Occupancy
$299/Person
Adult - Hotel Single Occupancy
$450/Person
Chid (ages 3-15) - Hotel room with Adult
$99/Child
Interested in partnering with us for Southern Schmooze in 2022? Please reach out to eleader@ramahdarom.org. Below is a list of our partners in 2020.
Agudath Israel – Etz Ahayem Synagogue
Montgomery, AL
Rabbi Scott Kramer
Cong. B'nai Zion
Chattanooga, TN
Rabbi Susie Tendler 

Cong. Beth Israel
Greenville, SC
Rabbi Matthew Marko

Cong. Beth Shalom
Columbia, SC
Rabbi Jonathan Case
Cong. Gesher L'Torah
Johns Creek, GA
Rabbi Michael Bernstein

West End Synagogue
Nashville, TN
Rabbi Joshua Kullock
Questions?
Contact Eliana Leader, Retreat Center Director
Phone: 404.531.0801 ext. 9208 or 678.367.8416
Email: eleader@ramahdarom.org
Venue
Ramah Darom
70 Darom Lane
Clayton, GA 30525