PJ's Grand Getaway
January 27-29, 2023
A special weekend designed for grandparents & grandkids in partnership with PJ Library Atlanta and perfect for PJ Our Way readers. Parents are also welcome to join the fun!
Save the date and stay tuned for more information.
All participants (6 months and up) must be up to date on COVID-19 vaccinations. Please read our COVID-19 Prevention Protocols.
During this three-day program on Ramah Darom's breathtaking North Georgia mountain campus, participants will enjoy multi-generational programming, designed for families with children ages 6-12 years old.
Check out the 2022 program guide!
Cabins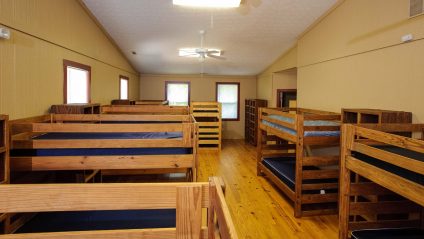 We have 16 single-family cabin spaces available on a first-come-first-serve basis. Each single-family cabin has a private room for adults with bunk beds in the main cabin space and a private bathroom. There is an indoor common space and a porch shared with three other families.
Multi-family cabins are perfect for two family units to share a space. There are two private rooms for adults with bunk beds in the main cabin space. The bathroom is shared between the two family units. There is indoor common space and a porch shared with another multi-family cabin housed in the same building.
Hotel Rooms
We have four hotels on our campus. All hotel rooms have a private bathroom, a table and two chairs, heating and air conditioning, complimentary toiletries and bed and bath linens.
Marcus Lodge (ML) and Mountainside Hotel (MSH) hotels are located up a steep hill with stairs, boardwalk and walking paths to the main areas of the campus. These standard hotel rooms each have a bathtub shower. Some connecting rooms are available. 
The Welcome Center (WC) and Lakeside Hotel (LH) hotel rooms are larger with either two queen beds or one king bed and a deluxe tub. Some connecting rooms are available.
The Welcome Center is an easy, flat walk to the Levine Center where meals are served and most of the action takes place. The Lakeside Hotel is up a steep hill close to the lake and not far from the Levine Center.
Cottages
Our most luxurious accommodations! Beautiful studio-style houses with a kitchenette, private patio, bathroom with walk-in shower, a king-sized bed and a sleeper sofa. Four cottages are available. These beautiful cottages are located on the mountainside of our campus off right near the boardwalk with both stair and ramp access to the main areas of the campus.
Rates & Payment Information
All-inclusive rates are per person and include all meals, snacks, drinks and activities. 
A $50 non-refundable deposit for each adult will be processed when the registration application is submitted. Payment is due in full 1 month before the program start date (February 11, 2022).
| Guests & Upgrades | Rate |
| --- | --- |
| Ages 3 & Up | $150 Per Person |
| Ages 2 & Under | $36 Per Person |
| Additional Hotel Room | $100 Flat Rate |
| Cottage Upgrade | $200 Flat Rate |
| Mini-Fridge | $25 |
| Pack n' Play | FREE |
Cancellation Policy: Cancellations made by February 25th are eligible for a 50% refund. No refunds will be made after February 26th. This policy includes cancellation due to quarantine after exposure or the result of a positive COVID test. Therefore, we strongly encourage Trip Protection Insurance.
PJ Library Atlanta
If you love bedtime stories and reading with your kids, then PJ Library in Greater Atlanta is for you! We'll send you FREE Jewish children's books every month. The books are age-appropriate, kid-tested, beautifully illustrated and best of all – they are about Jewish holidays and values. You'll love having a new PJ Library book each month almost as much as your children.
But PJ Library is much more than just free books. Our community gathers for story times and special programs to share Jewish values and meet new friends. PJ Library is for any family raising Jewish children ages 6 months through 8 years old – whether you are affiliated, unaffiliated, interfaith or non-traditional. PJ Library is available free as a gift for Greater Atlanta through Jewish Federation of Greater Atlanta. So sign up today and start enjoying all PJ Library has to offer! Learn more.
A program of the Harold Grinspoon Foundation, PJ Library is made possible through partnerships with philanthropists and local Jewish organizations. Families raising kids from birth through 9 years old with Judaism as part of their lives, are welcome to sign up. PJ Library welcomes all Jewish families, whatever your background, knowledge, or family make-up, or observance may be.
PJ Our Way
PJ Our WayTM, the next chapter of PJ Library®, offers the gift of exceptional Jewish chapter books and graphic novels to children in the United States ages 9-12. PJ Our Way is kid-driven. Kids choose their own books, creating a tailored experience based on their own interests and reading levels. Learn more.
Jewish Grandparent's Network
The Jewish Grandparents Network engages, educates, and celebrates grandparents as an essential influence in Jewish family life. We welcome grandparents from all backgrounds and traditions and embrace the diversity of today's Jewish families. Learn more.
Ramah Darom believes in the power of partnership to create exceptional, immersive Jewish experiences like this one. If your organization is interested in partnering with us, please reach out to Eliana Leader, Director of the Kaplan Mitchell Retreat Center at Ramah Darom.
Immunizations & Other Policies
Immunization Policy
Guests attending a Ramah Darom Retreat must provide confirmation that they have read the Ramah Darom Immunization Policy and are up-to-date on all required vaccinations. Retreat registration forms will ask guests to certify that they, and all members of their immediate family attending a Retreat, meet all immunization requirements. We will not require guests to submit their medical records except in exceptional circumstances.
Note that not all states have the same requirements, but ALL vaccinations recommended by the ACIP are required at Ramah Darom Retreats.
Covid-19
Ramah Darom requires all attendees, staff and visitors who are eligible to be vaccinated against COVID-19 to complete full vaccination two weeks prior to the beginning of the program they are attending. This includes the Covid booster where indicated.
Please also see our COVID-19 Prevention Protocols.
If you receive a positive COVID-19 test result in the days leading up to the retreat and are unable to attend, we are unfortunately not able to refund your payment due to upfront costs. Therefore, we highly recommend purchasing Trip Protection Insurance.
Pet Policy
Please note that NO pets of any kind may join you for your stay onsite, for any length of time.
Ramah Darom is two hours from Atlanta, in Clayton, GA.
Please use this Packing List as a guide and bring any specific items that you feel are necessary for your health, safety and enjoyment. 
Questions?
Contact
Rebecca Guttman
Guest Relations & Sales Associate
Phone: 470.231.0792
Email: rguttman@ramahdarom.org
Venue
Ramah Darom: 70 Darom Lane, Clayton, GA 30525
Here are more ways to experience Ramah Darom as a family:
Winter Break Family Camp, Camp for the whole family with counselor-led adventures, a magical Shabbat and a rockin' New Year's celebration; Summer Family Camp, family fun and a Camp test drive while Summer Camp is in session; Camp Yofi for families with children with Autism Spectrum Disorder; Book It To Shabbat with PJ Library, a fun-filled Shabbaton, perfect for families with young children 8 and under, where the magic of Camp and PJ Library characters are brought to life; Passover Retreat, like a kosher for Passover cruise on land.