LimmudFest
A celebration of Jewish thoughts, arts, culture and learning!
Tentative Date: Sunday, August 27-29, 2021
LimmudFest brings together Jews from all different Jewish backgrounds, denominations, ages, and lifestyles in the north Georgia mountains. Each person creates their own Jewish experience by participating in workshops, discussions, art, music, food presentations, text-study sessions, and more. All of this is made possible by a community of Limmud volunteers.
Save the Date for a Weekend to Remember!
Sessions exploring Jewish perspectives on culture, food, politics, history and more
A magic Shabbat in the foothills of the Blue Ridge Mountains
Multiple prayer and spirituality options available
Limmud Gan / Camp Ramah @ Limmud – up to age 12
Havdalah around the campfire
Sunday night Gala musical performance
Program Guide and Invited Presenters
2019 Invited Presenters
Rabbi Fred Guttman
Fred is a congregational rabbi in Greensboro, NC. He specializes in social justice advocacy, and Holocaust and Israel education. He was one of the lead activists against the LGBT discriminatory "Amendment One" in NC. In 2015, he organized the National Jewish commemoration in Selma of the 50th Anniversary of Bloody Sunday.
Gili Getz
Gili Getz is an Israeli-American actor, photojournalist and activist. He served as a military photographer for the IDF and as a news editor for Ynet. His work in recent years has focused on American Jewish politics and activism and he is published regularly in Jewish and Israeli press. Gili graduated from the American Academy of Dramatic Arts, performed across the country in numerous theatrical productions and was the recipient of the Kirk Douglas scholarship and the Artistic Director's Award in Los Angeles. He is currently performing his new one-person show, The Forbidden Conversation, across the country in Jewish spaces.
Sophie Dulberg
Sophie is a housing and environmental justice researcher and advocates living in Houston, TX. Some of her work focuses on challenging highway expansion projects, community preservation, toxic site cleanup, and flood mitigation. She derives her inspiration to work for community equity from the Jewish value of b'tselem elohim, the idea that we all exist in the image of the divine. In her spare time, Sophie provides educational workshops on topics related to Judaism and social justice as an Avodah Justice Ambassador. Some other interests of hers include intentional communities, walking, creative movement, and folk music.
Lily Brent
A graduate of Oberlin College, Lily Brent began her career advocating for changes in criminal justice policy and practice with the non-profit Family Justice. In 2010, Lily joined the JDC's Jewish Service Corps and spent a year volunteering at the Agahozo-Shalom Youth Village in Rwanda. Her experience providing psycho-social support to teenagers orphaned by the genocide led her to pursue masters' degrees in Social Work and International Affairs from Columbia University. Lily joined Repair the World as the founding director for their eighth community program in Atlanta in September 2018. Lily was drawn to Repair because of their emphasis on creating relationships between the Jewish community and grassroots organizations addressing poverty and inequity. Lily spends time reading and writing fiction, playing cards, and painting with Bob Ross.
Alan Howard
Alan Howard is a Global Operations Manager with Cisco Systems. He is an IT engineer by trade. He has also been engaged in activism and interfaith dialogue for over 28 years, including giving educational talks about Islam for schools, churches, synagogues, and civic organizations such as police departments and universities. He lives with his wife and two children in Decatur, GA and enjoys international travel, hiking and kayaking.
Eliana Light

Through meaningful music, powerful prayer, excellent education, and creative consulting, Eliana works with Jewish communities worldwide to unlock the wonders of our sacred heritage. She is the author of Hebrew in Harmony, a curriculum published by Behrman House that teaches prayer and Hebrew through music, and the founder and director of the G!D Project, an educational initiative focused on accessible, meaningful conversations about G!D and spirituality through ritual, text, and creative expression. Eliana received her Masters in Jewish Experiential Education from the Davidson School at JTS in 2016 and is based in Durham, NC. Learn more Eliana at www.elianalight.com.
Dave Miller
Dave Miller grew up in Los Angeles, California. Dave has been working in education since 2009 with a bachelor's degree from California State University Northridge and a master's degree in educational leadership from the University of Mississippi. He has worked diligently to improve educational outcomes for students as a teacher and administrator. He is now starting his 5th year as the Director of the Institute for Southern Jewish Living's Department of Community Engagement. Over the last year, his department has been hard at work on reaching more students and families with the ISJL's TAP (Talk About the Problems), Our Reading Family, and Literacy Achievement Bonanza programs to help students with conflict resolution and literacy. He is also extremely excited about the success and growth of ASK (Act, Share, Keep), the ISJL's Jewish social justice modules that help communities to find ways to make a difference by deciding how best to Act after Sharing in study and conversation, and to Keep meaningful work going strong, today and tomorrow.
Malka Simkovich
Dr. Malka Z. Simkovich is the Crown-Ryan Chair of Jewish Studies and director of the Catholic-Jewish Studies program at Catholic Theological Union in Chicago. She earned a doctoral degree in Second Temple and Rabbinic Judaism from Brandeis University and a Masters degree in Hebrew Bible from Harvard University. Her articles have been published in such journals as the Harvard Theological Review and the Journal for the Study of Judaism, as well on online forums such as TheTorah.com, The Lehrhaus, and the Times of Israel. Malka's first book, The Making of Jewish Universalism: From Exile to Alexandria was published in 2016, and her second book, Discovering Second Temple Literature: The Scriptures and Stories That Shaped Early Judaism, was published in 2018. She has recently completed a co-authored commentary to the book of Zechariah with her colleague Leslie Hoppe, which will be published by Liturgical Press in 2020. A native of Philadelphia, Malka lives in Skokie, Illinois, with her husband Aaron and their four children.
Aaron Simkovich
Aaron is the CFO of Maranon Capital LP in Chicago. He earned an MBA with a concentration in finance from Boston University and a BA in economics from Yeshiva University. A native of Boston, he lives in Skokie, Illinois with his wife Malka and their four children.
Rabbi Michael Knopf
Michael Knopf is the rabbi of Temple Beth-El, central Virginia's oldest and largest Conservative congregation. An alumnus of Rabbis Without Borders and the Clergy Leadership Incubator, Rabbi Knopf was named one of "America's Most Inspiring Rabbis" by The Forward. Passionate about social justice and multifaith partnership, Rabbi Knopf is an American Jewish World Service Global Justice Fellow, serves on the board of the Virginia Interfaith Center for Public Policy, and participates in several interfaith and human rights organizations. Rabbi Knopf previously served as Assistant Rabbi of Har Zion Temple in Penn Valley, PA. Before his ordination from the Ziegler School of Rabbinic Studies in 2011, he helped coordinate the Miller Introduction to Judaism Program, the nation's largest preparatory program for conversion to Judaism and worked as a spiritual counselor at Beit T'Shuvah, a Jewish addiction treatment facility. He has been published in several anthologies of contemporary Jewish thought and is a regular contributor to several regional, national, and international publications. Rabbi Knopf lives in Richmond with his wife, Adira, and three children. Originally from Atlanta, Georgia, he's a pop-culture buff, a political junkie, and enjoys movies, traveling, and pizza.
Susan Barocas
Susan Barocas is a writer, cook, teacher and speaker. She served as the guest chef for President Obama's White House Seders in 2014-2016 and was founding director of the innovative project, Jewish Food Experience. Her work has appeared in the Washington Post, Huffington Post, Moment and Lilith magazines among other outlets. Susan speaks and cooks around in the US and abroad, and has made many food-related appearances on television and radio. She is a member of Les Dames d'Escoffier international culinary society. The former director of the Washington Jewish Film Festival, Susan also writes and produces documentary films and consults with film festivals.
Margery Diamond
A visual artist, Margery uses her passion for nature to produce photographic images that capture the scope of Judaism. Studying her craft well, she brings an array of shape, light and color to her viewers. Her project Sacred Doors of Atlanta documents the designs of synagogue Ark doors. The Jewish Home Portrait Project demonstrates her talent for portraiture while reflecting the resident's personality. Her book, TORAH AND TRAILS, demonstrates the connections of Judaism with nature. She creates her photographs to make a difference.
Yael Kanarek
Yael Kanarek is a visual artist and jewelry designer. Her practice focuses on the relationship between language and form. She works in various media from internet art, to large-scale sculpture, to fine jewelry. Kanarek was born in New York City and raised in Israel. She returned in the early 90's to study and practice art. Over the years she became active in the creative Jewish life in downtown Manhattan. She exhibited her work at the Jewish Museum, The Whitney Museum, the San Francisco Museum of Modern Art, and more. She's a recipient of fellowships with the Rockefeller New Media grant, Eyebeam, and LABA – The Laboratory for Jewish Culture, where she designed the Hebrew font, Gufanit, for her jewelry. In 2018, she installed a large-scale sculpture commissioned by the US Department of State at the new embassy in Zimbabwe. Alongside her studio art practice and fine jewelry design, Kanarek is working on the Regendered Bible—rewriting the Bible by reversing the genders of all characters in both Hebrew and English. This initiative was inspired by a decade of Kabbalah study, and in response to the astonishing void of women-centered sacred text.
Chava Mirel
Seattle-based Chava Mirel is a nationally touring singer, guitarist, composer, prayer leader and recording artist. Performing in a multitude of genres, She bridges communities with her universal approach to spirituality through song. A highly sought-after vocal recording artist, Chava is known for her rich, luxurious vocals, lush harmonies and rhythmic phrasing. An award-winning Jewish music composer, Chava provides outstanding artist-in-residence services at congregations from coast to coast. Her compositions have been included in compilations and songbooks throughout the Jewish world. She is a recent alumnus of Hadar Institute's Rising Song Fellowship, and her voice has been featured in multiple recordings that have gained popularity across denominations. Chava recently released her third full-length album, "Into The Light", a dreamy, heart-wrenching and deeply personal reinterpretation of the Great American Songbook. Her fourth album, "Source Of Love", featuring 10 original Jewish songs, will be released this fall.
Jane Shapiro
Dr. Jane Shapiro is one of the founders of Orot: Center for New Jewish Learning. She has been a teacher, mentor, and coach through her work at the Florence Melton School and as a consultant. She is passionate about helping adults connect Jewish wisdom to their lives in vibrant and meaningful ways, and writes and speaks nationally on the topic. She has a degree from Princeton University in Jewish Studies, and a doctorate from the Davidson School of the Jewish Theological Seminary. she is also a graduate of MTEI and Visions Project of the Mandel Foundation. In 2017, she was honored to receive the Educators Award from the Covenant Foundation. Her ELI talk on "The Torah of Bubbiehood" (https://elitalks.org/torah-bubbiehood)and seems to make people cry. Jane lives in Skokie, Illinois with her husband David and is the proud mother of four sons, mother-in law to three daughters and a Bubbie to four grandsons.
Housing Descriptions
There is plenty of space to pitch your tent on our beautiful campus. Spend your days under a shady tree and your nights under a starry sky. Enjoy the great outdoors knowing that a bathroom and shower are just a few steps away. Bathrooms and showers will be available for use in designated areas.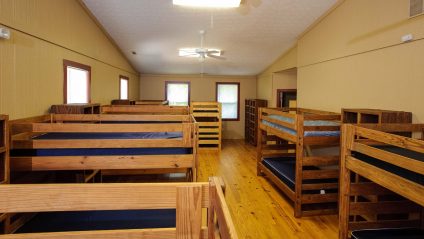 Cabins are spacious and nestled throughout the campus. Each cabin offers a dorm-style bunking area and private twin rooms with shared stalls, showers, and sinks. All cabin rates are based on shared space. Linens are provided but beds are not made up. * The private room within each gendered and communal cabin is available on a first come basis. 
All hotel rooms have a private bathroom, table, and chairs, heating and air conditioning, complimentary toiletries, and bed and bath linens. These hotels are located up a steep hill with stairs, boardwalk and walking paths to the main areas of the campus. Standard rooms have two queen beds. Some connecting rooms are available. 
Deluxe hotel rooms are larger rooms with either 2 queen beds or 1 king bed, a deluxe tub and a mini-fridge. The deluxe rooms in the Welcome Center are an easy, flat walk to the Levine Center where meals are served and most of the action takes place. Some connecting rooms are available.
All cottages are brand new with a kitchenette, private patio, bathroom with walk-in shower, king-sized bed and sleeper sofa. These beautiful cottages are located on our new boardwalk with both stair and ramp access to the main areas of the campus. There is a minimum of two people per cottage.
2019 Pricing
Full Weekend Rate
| | |
| --- | --- |
| Camping | $199/person |
| Shared Cabin (group or multi family) | $300/person |
| Single Family Cabin | $360/person |
| Standard Hotel-2 or more adults | $425/person |
| Standard Hotel-Single Occ. | $575/person |
| Deluxe Hotel-2 or more adults | $575/person |
| Deluxe Hotel-Single Occ. | $725/person |
| Cottage (Min. 2 adults) | $650/person |
| Ages 3-17 | $150/person |
| Ages 0-2 | Free |
One Night Rate
| | |
| --- | --- |
| Camping | $118/person |
| Cabin | $180/person |
| Standard Hotel-2 or more adults | $225/person |
| Standard Hotel-Single Occ. | $250/person |
| Deluxe Hotel-2 or more adults | $300/person |
| Deluxe Hotel-Single Occ. | $325/person |
| Ages 3-17 | $75/person |
| Ages 0-2 | Free |
Commuter Rate
| | |
| --- | --- |
| Ages 3 and Up | $75 |
| Ages 0-2 | Free |
Scholarships are available!
Policies & Other Important Info.
Immunization Policy
Ramah Darom requires that all guests and visitors, including children of all ages, follow the vaccination requirements recommended by the Center for Disease Control's Advisory Committee on Immunization Practices.
Note that not all states have the same requirements, but ALL vaccinations recommended by the ACIP are required at Ramah Darom Retreats.
Guests attending a Ramah Darom Retreat must provide confirmation that they have read the immunization policy and are up-to-date on all required vaccinations. Retreat registration forms will ask guests to certify that they, and all members of their immediate family attending a Retreat, meet all immunization requirements. We will not require guests to submit their medical records except in exceptional circumstances.
Questions?
Contact: Adina Rudisch, Limmud Atlanta + SE Program Manager
Email: info@limmudse.org
Venue
Ramah Darom
70 Darom Lane
Clayton, GA 30525
Phone: (706) 782-9300
LimmudFest is a partnership program between Limmud Atlanta & Southeast and the Kaplan Mitchell Retreat Center at Ramah Darom. Flip through our photo gallery to get a taste of the magic.
Here are more ways to experience Ramah Darom as a family:
Book It To Shabbat with PJ Libary, a fun-filled Shabbaton where the magic of Camp and PJ Library characters are brought to life. Now including a PJ Our Way Track; Winter Break Family Camp, Camp for the whole family with counselor-led adventures, a magical Shabbat and a rockin' New Year's Eve; Summer Family Camp, family fun and a Camp test drive while Summer Camp is in session; Camp Yofi for families with children with Autism Spectrum Disorder; Passover Retreat, an all-inclusive, kosher for Passover vacation for the whole extended family.
Whitney Kweskin, GA

"Ramah Darom is a breath of calm in a busy, confusing world. It has also been a place of beginnings for me: Limmud was my first introduction to the Atlanta Jewish community, it was the birthplace of the chavura I'm a part of now, and Ramah Darom was where my husband and I were married and began our life together. I would say it's pretty important to both of us, and we look forward to returning as often as possible as a family."