B'teavon
B'teavon is an all-new, 4-day culinary exploration through the tastes, history, diversity and connections of all things Jewish food culture developed in partnership with The Gefilteria (co)LABS at Ramah Darom.
President's Day Weekend
February 17-20, 2023
B'TEAVON IS NOW SOLD OUT! If you would like to be added to our waitlist or our email list for next year, please email retreats@ramahdarom.org. 
Join us this President's Day weekend for a one-of-a-kind culinary experience! At B'teavon guests will enjoy delicious Jewish cuisine prepared by our guest chefs, a variety of workshops, demonstrations, food and wine tastings, evening entertainment, and all the beauty that surrounds you on our breathtaking 185-acre campus in the North Georgia Mountains.
Learn new skills from experts at the forefront of the Jewish and culinary worlds during cooking classes, tastings and hands-on demos. Find your new favorite Kiddush cocktail, feast on kosher soul food and sample delicious bites. While this is an adult-based program, childcare will also be available. We can't wait to welcome you to Ramah Darom's North Georgia mountain home for a 4-day, 3-night exploration of all things Jewish food culture.
"Jewish food culture goes beyond just eating; the heart of our modern table is informed by bountiful stories and connections from a lived experience of the past to the present. At B'teavon, old traditions will be made new again by integrating Jewish food culture into every part of our modern table."

-Eliana Leader, Director of the Kaplan Mitchell Retreat Center at Ramah Darom
Registration is open for B'teavon and space is limited. All-inclusive rates include accommodations in Ramah Darom's onsite private cottages, hotels or upscale cabins, delicious kosher meals, snacks and beverages, and all activities.
Guest Chefs & Field Experts
B'teavon Headliner
Adeena Sussman
Adeena Sussman is the author of Sababa: Fresh, Sunny Flavors From My Israeli Kitchen, which was named a Best Fall 2019 cookbook by The New York Times, Bon Appetit, and Food & Wine. She is currently working on her follow-up to Sababa, all about the foods of Shabbat. She also coauthored Gazoz, all about the culture of sparkling seltzer-based drinks in Israel, with Benny Briga.
The co-author of 15 cookbooks, Adeena's three most recent collaborations, including Cravings and Cravings: Hungry For More with Chrissy Teigen, were New York Times Best-sellers.
A lifelong visitor to Israel who has been writing about that country's food culture for almost 20 years, Adeena made Aliyah in December 2018. She cooks and writes in Tel Aviv, where she lives in the shadow of that city's Carmel Market with her husband, Jay Shofet. You can follow her on Instagram @adeenasussman.
B'teavon Southern Chef Spotlight
Todd Ginsberg
Todd Ginsberg is a 2014 and 2015 James Beard Foundation Semifinalist for Best Chef, Southeast and a graduate of the Culinary Institute of America at Hyde Park, New York. He started his career at The Dining Room at The Ritz Carlton in Atlanta under Joel Antunes and Bruno Menard. He also led the kitchens at Asher in Roswell, Georgia as well as Madison's in Highlands, North Carolina. Later he spent time at Lucas Carton in Paris and at Alain Ducasse in New York. Upon his return to Atlanta, he worked for the Concentrics Restaurants Group, serving as chef at both TAP and Trois. Ginsberg was the chef at Bocado from its opening in 2009 until partnering with Jennifer and Ben Johnson and Shelley Sweet to open The General Muir in 2013. Ginsberg, Johnsons, and Sweet "Rye Restaurants" next opened Fred's Meat & Bread and Yalla, both in Krog Street Market (2014), TGM Bread (2016), Wood's Chapel BBQ (2019), and a second location of The General Muir in Sandy Springs (2021). Most recently, Ginsberg and Rye Restaurants collaborated with Thompson Hotels to open Dirty Rascal at the Thompson Buckhead, featuring classic Italian American "red sauce" cuisine (January 2022).
B'teavon Program Development Partner
The Gefilteria
The Gefilteria is a new kind of food venture with a manifesto and a mission to reimagine eastern European Jewish food culture, launched by Liz Alpern and Jeffrey Yoskowitz in 2012, You can find their artisanal gefilte fish online and in stores during major holiday seasons, though their work reaches far beyond a single dish. Their cookbook, The Gefilte Manifesto: New Recipes for Old World Jewish Foods, builds off of their original manifesto with over 100 recipes and stories. Most of the year they're leading immersive culinary workshops and collaborating on dynamic events and media projects. Learn more.
Fun Fact: The Gefilteria co-founder, Liz Alpern, joined Jewish Women's Getaway at Ramah Darom as Culinary Track Leader in 2021.
Also Featuring
Michael W. Twitty
Michael W. Twitty is a recognized culinary historian and independent scholar focusing on historic African American food and folk culture and culinary traditions of historic Africa and her Diaspora. In his latest book, Koshersoul, The Faith and Food Journey of an African Amerian Jew, which just won the National Jewish Book Awards 2023 Book of the Year, Twitty explores the cultural crossroads of Jewish and African diaspora cuisine and issues of memory, identity, and food. He is a living history interpreter and historic chef, one of the few recognized international experts of his craft—the re-construction of early Southern cuisine as prepared by enslaved African American cooks for tables high and low—from heirloom seeds and heritage breed animals to fish, game, and foraged plant foods to historic cooking methods to the table.
Michael is a two-time James Beard award-winning author of the acclaimed The Cooking Gene. He founded www.Afroculinaria.com, the first website/blog devoted to the preservation of historic African American foods and foodways. He has conducted over four hundred classes and workshops, written curricula and educational programs, giving lectures and performed cooking demonstrations for groups including the Smithsonian Institution, Colonial Williamsburg Foundation, Carnegie-Mellon, Thomas Jefferson's Monticello, Library of Congress, the Association for the Study of Food and Society, and Oxford University's Symposium on Food and Cookery.
Tova du Plessis
Tova du Plessis is a four-time James Beard Foundation Award nominee and owner of South Philadelphia Jewish bakery, Essen. In 2021, her apple cake with buttermilk sherbet and rum caramel "Beat Bobby Flay" in the episode "It's a Cakewalk", topped with chopped apples, walnuts and a pomegranate creme fraiche.
"Tova du Plessis one-upped pretty much everyone's bubbe with her chocolate halva babka at Essen"
— Craig Laban, The Philadelphia Inquirer
She took inspiration from the fresh baked bread and pastries she would make alongside her mother as a child in South Africa. Her food reflects her heritage while being heavily influenced by her technical training. She loves cooking Ashkenazi favorites, such as brisket, and her bakery sells spins on these classics, such as her cinnamon hazelnuts and chocolate halvah babka.
Susan Barocas
Writer, chef and cooking instructor Susan Barocas is passionate about healthy, no-waste cooking and Jewish food, especially Sephardic history, cultures and cuisines. She proudly introduced several Sephardic dishes when serving as guest chef for three Seders at the Obama White House.  Founding director of the Jewish Food Experience, she organized the Israeli food conference sponsored by the American University Center for Israel Studies and co-chaired the Hazon food conference. Susan's newest project, with the singer Sarah Aroeste, is Savor: A Sephardic Music and Food Experience, a unique project that brings together Ladino music with Sephardic history and cuisine. Savor includes a CD and video cooking series (to be released in early 2023), programs and workshops presented in local communities and an Athens-Istanbul cruise in May 2023.
Seth Watson
Seth Watson, founder of Distillery of Modern Art, the only craft distillery that delivers a full sensory experience by fully weaving artistic expression into every aspect of the brand, at every step along the way. Seth brings expertise in spirit making, cocktail creation and food pairing.
Yona Benstock Friedman
Flowers by Yona is a full-service floral and event design studio, based in Atlanta, Georgia and serving the Southeast region. Whether it's a wedding, a social event, a company party or a private party at your home, our passion is to tell your special story through color choices, flower choices, lighting, linens, draping, special and unique furnishings and other decor items.
Rates & Payment Information
B'teavon all-inclusive rates are based on accommodations per person for 4 days and 3 nights and include delicious kosher meals, snacks and beverages, and all activities.


Accommodation
Per Person Rate
Upgrades
Cabin
$600/person
(ages 18+)
$200/Semi-Private Cabin (minimum 3 people)
$25/Mini Fridge
$25/Keurig
Hotel
$750/person
(ages 18+)
$200/person/Deluxe Private Cottage
$200/Additional Hotel Room
$200/Single Occupancy Fee
Any
$350/youth
(ages 3-17)
Any
$150/infant
(ages 2 and under)
CLOSED! Our Gan is at maximum capacity*
*Our Gan (baby & toddler childcare) is now at maximum capacity and we are unable to accommodate additional registrations for age 2 and under.
CRDAA Members: Take advantage of a special opportunity to attend B'teavon at Ramah Darom for only $360 per person.
This discounted rate is limited to just 36 people (CRDAA members can each bring up to one adult guest) and includes housing in a shared cabin with up to a dozen other guests. There will be single-gendered cabins and all-gendered cabins available. Linens provided.
Simply click the Register Today! button below.
Payment Schedule:
Deposit: $100 non-refundable deposit per adult due at registration
Full Payment Due: January 6, 2023
For those paying by check, please mail to
Ramah Darom
6400 Powers Ferry Road, Suite 215
Atlanta, GA 30360
Cancellation Policy
Cancellations made by January 27, 2023, are eligible for a 50% refund. No refunds will be made on or after January 28, 2023. This policy includes cancellation due to quarantine after exposure or the result of a positive COVID test. Therefore, we strongly encourage Trip Protection Insurance.
Deluxe Private Cottages
There are 4 deluxe private cottages on Ramah Darom's campus and they are our most luxurious accommodations! These beautiful studio-style cottages feature a kitchenette, private porch, bathroom with a walk-in shower, king-sized bed and full-sized pullout couch. Please note that cottages are not ADA accessible and have stair-only access. Rates are based on an upgrade from a double occupancy hotel room.
(To register for a cottage, choose "Hotel" in the registration form and select "Cottage Upgrade". Upgrades are also available to a single-occupancy cottage.)
Hotel Rooms
There are 4 hotels on Ramah Darom's campus. All hotel rooms have a private bathroom, table and chairs, heating and air conditioning, complimentary toiletries, bed and bath linens, a mini fridge and a Keurig. Most hotel rooms have two queen-sized beds and four have a king-sized bed. Rates are based on double occupancy. Upgrades are available to a single occupancy hotel room or a deluxe private cottage. Some connecting rooms are available.
Cabins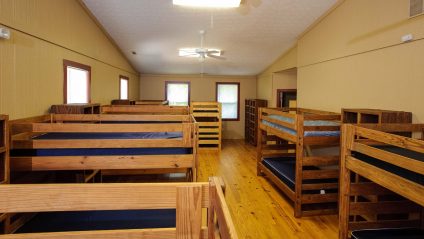 Shared Cabins
There are 2 shared cabins per building and each cabin is shared by 2 families (4 families per building). Each cabin has 2 private rooms, 1 center room with 8 bunk beds and a shared bathroom. The bathrooms have multi-stalls and walk-in showers.
Semi-Private Cabins
There are 16 semi-private cabins on campus available with 4 semi-private cabins per building (4 families per building). These cabins are assigned on a first-come, first-served basis at the same rate as a shared cabin. However, families can guarantee a semi-private cabin stay for a $200 flat rate per household. In a semi-private cabin each family has their own space separated from another family by a pocket door with 1 private room, 1 center room with 4 bunk beds and a private bathroom.
For all cabins, linens are provided, but beds are not made up.
Vaccination Policy & Covid Prevention Protocols
Ramah Darom brings people of all ages together for exceptional experiences in Jewish living and learning on its 185-acre North Georgia mountain campus. Ramah Darom programs – including summer camp, family camps and year-round experiential retreats – inspire a lifelong love of Jewish values, tradition and community.
The programming at B'teavon is made possible thanks to the support of the Ramah Darom Retreat Programming Excellence Fund. For information about supporting this fund, please contact Sharon Rosenfeld at srosenfeld@ramahdarom.org.
Questions?
Phone: 404.531.0801
Email: retreats@ramahdarom.org
Venue
Ramah Darom
70 Darom Lane
Clayton, GA 30525