B'teavon
B'teavon is a 4-day culinary exploration through the tastes, history, diversity and connections of all things Jewish food culture developed in partnership with The Gefilteria (co)LABS at Ramah Darom. This is an adult program welcoming guests ages 21 and up.* 
President's Day Weekend, February 16-19, 2024
Introducing the B'teavon 2024 Lineup
Get a taste of B'teavon with these Sukkot recipes from our chefs and field experts and scroll down to learn more.
Join us this President's Day weekend for a one-of-a-kind culinary experience! At B'teavon guests will enjoy delicious Jewish cuisine prepared by our guest chefs, a variety of workshops, demonstrations, food and wine tastings, evening entertainment, and all the beauty that surrounds you on our breathtaking 185-acre campus in the North Georgia Mountains.
Learn new skills from experts at the forefront of the Jewish and culinary worlds during cooking classes, tastings and hands-on demos. Find your new favorite Kiddush cocktail, feast on kosher soul food and sample delicious bites. We can't wait to welcome you to Ramah Darom's North Georgia mountain home for a 4-day, 3-night exploration of all things Jewish food culture.
"Jewish food culture goes beyond just eating; the heart of our modern table is informed by bountiful stories and connections from a lived experience of the past to the present. At B'teavon, old traditions will be made new again by integrating Jewish food culture into every part of our modern table."

-Eliana Leader, Director of the Kaplan Mitchell Retreat Center at Ramah Darom
All-inclusive rates include accommodations in Ramah Darom's onsite private cottages, hotels or upscale cabins, delicious kosher meals, snacks and beverages, and all activities.
*Limited space is available for ages 2 and under in our Gan (daycare) for babysitting during sessions. Please inquire for more details.
2024 Guest Chefs & Field Experts
Leah Koenig
Leah Koenig is the author of seven cookbooks including the acclaimed The Jewish Cookbook and Modern Jewish Cooking. Her newest cookbook, PORTICO: Cooking and Feasting in Rome's Jewish Kitchen, was published by W.W. Norton on August 29, 2023. 
Leah's writing and recipes can be found in The New York Times, New York Magazine, The Wall Street Journal, The Washington Post, Food & Wine, Epicurious, and Food52, among other publications. She also writes a weekly newsletter, The Jewish Table, which shares recipes and stories from the world of Jewish food.
In addition to writing, Leah leads cooking demonstrations and workshops around the country and world. She lives in Brooklyn, New York with her husband and two children. 
Susan Barocas
Writer, chef and cooking instructor Susan Barocas is passionate about healthy, reduced-waste cooking and Jewish food, especially Sephardic history, cultures and cuisines. She is co-founder/co-director with Sarah Aroeste of Savor: A Sephardic Music & Food Experience, created in 2022 to preserve and present Sephardic history and culture. Founding director of the innovative Jewish Food Experience, Susan served as guest chef for three of President Obama's White House Seders. Her writing has appeared in the Washington Post, Lilith, Moment, The Nosher and syndicated newspapers across the country among other outlets. She has presented classes, given talks and cooked across the US, internationally and on broadcast media.
Zak the Baker
Zak Stern, known affectionately as Zak the Baker for his well-known kosher bakeries of the same name in the Wynwood neighborhood of Miami, FL, is this year's Southern Spotlight presenter at B'teavon.
In Spring 2023, Zak was announced as a James Beard Finalist. He was also named a James Beard Semi-Finalist in the Oustanding Baker category in 2017 and 2018, Best Baker by the Miami Times in 2013 and Baking & Pastry Chef of the Year by JWU Zest Awards in 2015. In 2014, Zak the Baker Wynwood Bakery & Cafe won Best Bakery in the Best of Miami Awards and has gone on to develop a national reputation for excellence. Now, his breads are available at Whole Foods Markets throughout South Florida.
"Stern became Miami's king of kosher baking even though he was raised culturally Jewish but not religious. But he believes in preserving Jewish culture through its food and spent years in Israel and Italy learning to bake in traditional fashion." -Miami Herald
Hélène Jawhara Piñer
Hélène Jawhara Piñer is a PhD in Medieval History, History of Food and a Sephardic Chef.
She is the author of "Sephardi: Cooking the History" (2021), awarded by the Gourmand World Awards as the Best Jewish Cuisine Book, and "Jews, Food and Spain" which was a finalist of the Jewish Book Awards in the "Sephardic Culture" category, in 2023. She spearheads the culinary live show "Sephardic Culinary History with Chef Hélène Jawhara Piñer", 13 sessions promoted by the ASF & The Center of Jewish History. She was awarded the Broome and Allen Fellowship of the American Sephardi Federation (ASF) in 2018 and the David Gitlitz Emerging Scholar Prize of the Society for Crypto-Judaic Studies in 2021. Since 2022, she has been a member of the Foodish Advisory Board of ANU Museum (Tel Aviv) and is currently working on a new cookbook, "Matza and Flours. Recipes from the History of the Sephardic Jews" that will be available for Fall 2024.
The Gefilteria
The Gefilteria is a new kind of food venture launched in 2012 with a manifesto and a mission to reimagine eastern European Jewish cuisine. You can find their artisanal gefilte fish online and in stores during major holiday seasons, though our work reaches far beyond a single dish. Their cookbook, The Gefilte Manifesto: New Recipes for Old World Jewish Foods, builds off of our original manifesto with over 100 recipes and stories. Most of the year they're leading immersive culinary workshops and collaborating on dynamic events and media projects. And while they don't have a storefront, they are always cooking up a dinner or an event in person or, lately, in the virtual sphere.
Jeffrey Yoskowitz
Jeffrey Yoskowitz is a leader of the Jewish Food Renaissance as an entrepreneur, writer, pickler and cookbook author. He curates and cooks dining events in kitchens around the world, teaches about Jewish cooking and Jewish food heritage and writes about food and culture for publications like The Atlantic, The New York Times, Slate, and Gastronomica, among others. Jeffrey co-founded The Gefilteria and co-authored The Gefilte Manifesto: New Recipes for Old World Jewish Foods along with Liz Alpern. He was named to the Forbes 30 under 30 list and The Forward 50 and has been featured in The New Yorker, The New York Times, Saveur, and The Wall Street Journal, among many other publications.
Liz Alpern
Liz Alpern is passionate about re-imagining tradition and bringing people together. Liz is co-founder of The Gefilteria and co-author of The Gefilte Manifesto: New Recipes for Old World Jewish Foods. She is also the creator of Queer Soup Night, a global event series highlighting the talent of queer chefs and raising tens of thousands of dollars for locally-based social justice organizations. Liz received her MBA from Baruch College's Zicklin School of Business and has been featured on the Forbes 30 Under 30 List, the Forward 50 and The Cherry Bombe 100. She is committed to seeing a more just and equitable food system for all, so when she's not in the kitchen with The Gefilteria, she's consulting for the national non-profit organization Fair Food Network.
Rabbi Charlie Schwartz
Rabbi Charlie Schwartz is the founding director of Lehrhaus, a Jewish tavern and house of learning in Somerville, MA, where he leads a team of seasoned restaurant professionals and Jewish educators to create experiences at the intersection of learning, community, and hospitality. Charlie was ordained by the Jewish Theological Seminary (JTS) where he was a Wexner Graduate Fellow, Legacy Heritage Rabbinic Fellow and founded Not-a-Box Media Lab, developer of the popular PocketTorah and AlephBet apps.  A resident of Newton, MA, Charlie lived for over a decade in the Cambridge/Somerville area, where he was a rabbinic advisor to the local Jewish community, board president of Alef-Bet Child Care and played sousaphone in the Second Line Social Aid and Pleasure Society Brass Band.
Debbie Kornberg
Holding a Bachelor of Arts in history and Judaic studies from the University of California San Diego and a Master of Arts in Jewish education from the Jewish Theological Seminary of America, Debbie is an educator at heart. She spent the first 20 years of her career working for Jewish organizations including the San Diego Jewish Academy as the Director of Judaic studies and Jewish Federation of San Diego County as Director of Israel and Overseas. In 2014 Debbie made a career change, moving into the world of exotic spices, and launched her own spice company: SPICE + LEAF. As an expert spice blender, and with her formal training in Jewish education, Debbie is uniquely positioned to teach spices and cooking through the lens of Jewish life and practices. In March 2019 Debbie led her first Culinary and Arts Trip to Israel. This nine-day trip included learning about the history, culture, and people of Israel all through the lens of food and art.
Debbie is passionate about education and teaches how to cook with spices in easy-to-follow recipes through her Spice It Up with Deb cooking classes. Debbie has been a monthly contributor on Fox 5 San Diego Morning News for the last six years and is also a guest cooking instructor for Rancho La Puerta Wellness Resort & Spa. She offers team-building cooking classes for Fortune 500 Companies and non-profit organizations across the United States.
As owner of SPICE + LEAF and Spice It Up with Deb: A Live Cooking Experience, Debbie has collaborated with organizations and companies such as Apple Computers, Kashi, Limmud North America, Jewish National Fund-USA, Premier Fitness Camp, Delicious Experiences, the Schusterman Foundation, Rancho La Puerta, Jewish Federation of San Diego, and numerous others. SPICE + LEAF has proudly presented gifts with GBK Productions of Beverly Hills for the Grammy Awards, the Emmy Awards, and the Academy Awards.
Yona Benstock Friedman
Yona Benstock Friedman is the founder and owner of Flowers by Yona, a full-service floral and event design studio, based in Atlanta, Georgia and serving the Southeast region. In 2010, Yona moved to Israel and began formal training in floral design. Her training led her to Holland to study Dutch Floral Design at the Boerma Institute and then back to Israel to work under some of the best designers in the country. In 2012, she moved back to Atlanta, Georgia, where she started her business and began sharing the beautiful European style of floral design within the Southeast. Whether it's a wedding, a social event, a company party or a private party at your home, her passion is to tell your special story through color choices, flower choices, lighting, linens, draping, special and unique furnishings and other decor items.
2024 Rates & Payment Information
B'teavon all-inclusive rates are based on accommodations per person for 4 days and 3 nights and include delicious kosher meals, snacks and beverages, and all activities.
Cabins and cottages still available. Please reach out to retreats@ramahdarom.org to be added to the waitlist for hotel rooms.
Accommodation
Per Person Rate
Upgrades & Add-ons
Cabin
$800/person
(ages 21+)
$250 Semi-Private Cabin (minimum 3 people)
$25 Mini Fridge
Hotel
(minimum 2 guests per room) SOLD OUT!
$950/person
(ages 21+)
$400/person Deluxe Cottage
$400 Private Room (1 guest only)
Any
$150/infant
(ages 2 and under)
Limited capacity*
All adult rates are based on minimum double occupancy. Guests attending solo will be housed with another solo guest. If you would prefer to stay in a hotel room on your own, choose the "private hotel room" add-on.
Payment Schedule:
Deposit: $150 non-refundable deposit per adult due at registration
Full Payment Due: January 19, 2024
Payment can be made via credit card, e-check or mailed check. If paying via credit card, a 2.5% fee will be added to cover the processing fees charged to Ramah Darom by the credit card companies. There is no fee to pay via e-check or mailed check. Please ensure mailed checks reach our Atlanta offices by the payment due date indicated.
For those paying by check, please mail to:
Ramah Darom
6400 Powers Ferry Road, Suite 215
Atlanta, GA 30339
Cancellation Policy
Cancellations made by February 1, 2024, are eligible for a 50% refund, minus the initial deposit. No refunds will be made on or after February 2, 2024. If you have symptoms of illness or believe you have been directly exposed to a communicable disease, we ask that you not attend the program to avoid the risk of transmission to our other guests and staff. We highly recommend purchasing Trip Protection Insurance as we are not able to refund you in the event of a last-minute cancellation.
Deluxe Cottages
UPGRADE TO A COTTAGE! There are 4 deluxe cottages on Ramah Darom's campus and they are our most luxurious accommodations! These beautiful studio-style cottages are private buildings that feature a kitchenette, private porch, bathroom with a walk-in shower, king-sized bed and full-sized pullout couch. Please note that cottages are not ADA accessible and have stair-only access. Rates are based on an upgrade from a double occupancy hotel room.
Hotel Rooms
We have 4 hotel buildings on our 185-acre campus. All hotel rooms have a private bathroom, heating and air conditioning, a table and two chairs, a Keurig coffee maker, mini-fridge, complimentary toiletries, and bed and bath linens. Most hotel rooms have two queen-sized beds and four have a king-sized bed. Rates are based on double occupancy. Upgrades are available for a private hotel room or a deluxe private cottage. Some connecting rooms are available.
Cabins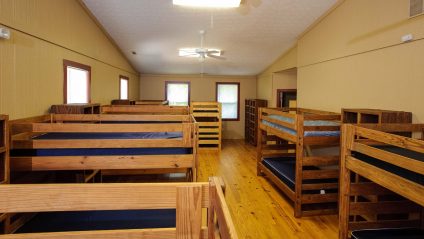 Ramah Darom's cabins are modern and spacious with hardwood floors, a screened-in porch and indoor bathroom(s). Each cabin has an open area with dorm-style bunk beds and 1 or 2 private rooms with twin beds. 
Cabins
In each cabin building there are 2 sides. Each side is shared by 6 or more individuals. When you register for a cabin you can select if you would like to stay in a communal or gendered cabin (we will assign you a cabin space) or a shared cabin (where a minimum of 6 individuals can pre-select their cabin mates). Each side has 2 private rooms, 1 center room with 8 bunk beds and a shared bathroom. The bathrooms have multi-stalls and walk-in showers.
Semi-Private Cabins
Semi-Private Cabin units are available as an upgrade option to groups of 3 or more individuals. There are 4 semi-private cabin buildings on campus which contain 4 units per building divided by pocket doors. In a semi-private cabin each unit has 1 private room, 1 center room with 4 bunk beds and a private bathroom.
For all cabins, linens are provided, but beds are not made up.
Check-in: Friday, February 16, 2024, 2:00-5:00pm ET
L'hitraot: Monday, February 19, 2024, 12:15pm ET
Ramah Darom is two hours from Atlanta, in Clayton, GA. Please download and print these Driving Directions and bring them with you when you travel. GPS shortcuts can lead you to dangerous mountain roads!
We provide a shuttle between the Atlanta airport and Ramah Darom's campus on arrival and departure days. The shuttle is $50 per person each way. Sign up for the shuttle as part of the registration process.
The shuttle will depart from the airport at 1:30pm (flights should land by 12:30pm) on February 16 and will leave campus at 12:15pm (flights should take off after 4:30pm) on February 19. Participants with children requiring a car or booster seat must bring their own. *If the shuttle has more than 25 seats, car or booster seats cannot be used; we cannot guarantee a specific vehicle size.
Please use this Packing List as a guide and bring any specific items that you feel are necessary for your health, safety and enjoyment.
Coming Soon!
If your company is interested in becoming a B'teavon sponsor, please contact Sarah Nathan at bteavon@ramahdarom.org.
Health Protocols & Vaccination Policies
Ramah Darom brings people of all ages together for exceptional experiences in Jewish living and learning on its 185-acre North Georgia mountain campus. Ramah Darom programs – including summer camp, family camps and year-round experiential retreats – inspire a lifelong love of Jewish values, tradition and community.
Check out the B'teavon 2023 Program Guide and read "A Delicious Weekend" By Dr. Joelle Abramowitz
The programming at B'teavon is made possible thanks to the support of the Ramah Darom Retreat Programming Excellence Fund. For information about supporting this fund, please contact Sharon Rosenfeld at srosenfeld@ramahdarom.org.
Questions?
Phone: 404.531.0801
Email: retreats@ramahdarom.org
If you would like to be added to our email list, please email communications@ramahdarom.org. 
Venue
Ramah Darom
70 Darom Lane
Clayton, GA 30525