B'teavon
B'teavon is an all-new, 4-day culinary exploration through the tastes, history, diversity and connections of all things Jewish food developed in partnership with The Gefilteria (co)LABS at Ramah Darom.
President's Day Weekend
February 17-20, 2023
Join us this President's Day weekend for a one-of-a-kind culinary experience! At B'teavon guests will enjoy delicious Jewish cuisine prepared by our guest chefs, a variety of workshops, demonstrations, food and wine tastings, evening entertainment, and all the beauty that surrounds you on our breathtaking 185-acre campus in the North Georgia Mountains.
Learn new skills from experts at the forefront of the Jewish and culinary worlds during cooking classes, tastings and hands-on demos. Find your new favorite Kiddush cocktail, feast on kosher soul food and sample delicious bites. Children's programming will also be available. We can't wait to welcome you to Ramah Darom's North Georgia mountain home for a 4-day, 3-night exploration of all things Jewish food.
"Jewish food culture goes beyond just eating; the heart of our modern table is informed by bountiful stories and connections from a lived experience of the past to the present. At B'teavon, old traditions will be made new again by integrating Jewish food culture into every part of our modern table."

-Eliana Leader, Director of the Kaplan Mitchell Retreat Center at Ramah Darom
Registration is opening soon for B'teavon and space is limited. All-inclusive rates include accommodations in Ramah Darom's onsite private cottages, hotels or upscale cabins, delicious kosher meals, snacks and beverages, and all activities.
Get your culinary juices flowing before the big weekend at Ramah Darom. The Gefilteria is hosting a series of virtual workshops this fall: New Year, Autumn Harvest and Hanukkah! Sign up for all three sessions and get a 15% discount using code TRIO15! Learn more here.
Guest Chefs & Field Experts
B'teavon Headliner
Chef Adeena Sussman
Adeena Sussman is the author of Sababa: Fresh, Sunny Flavors From My Israeli Kitchen, which was named a Best Fall 2019 cookbook by The New York Times, Bon Appetit, and Food & Wine. She is currently working on her follow-up to Sababa, all about the foods of Shabbat. She also coauthored Gazoz, all about the culture of sparkling seltzer-based drinks in Israel, with Benny Briga.
The co-author of 15 cookbooks, Adeena's three most recent collaborations, including Cravings and Cravings: Hungry For More with Chrissy Teigen, were New York Times Best-sellers.
A lifelong visitor to Israel who has been writing about that country's food culture for almost 20 years, Adeena made Aliyah in December 2018. She cooks and writes in Tel Aviv, where she lives in the shadow of that city's Carmel Market with her husband, Jay Shofet. You can follow her on Instagram @adeenasussman.
B'teavon Southern Chef Spotlight
Chef Todd Ginsberg
Todd Ginsberg is a 2014 and 2015 James Beard Foundation Semifinalist for Best Chef, Southeast and a graduate of the Culinary Institute of America at Hyde Park, New York. He started his career at The Dining Room at The Ritz Carlton in Atlanta under Joel Antunes and Bruno Menard. He also led the kitchens at Asher in Roswell, Georgia as well as Madison's in Highlands, North Carolina. Later he spent time at Lucas Carton in Paris and at Alain Ducasse in New York. Upon his return to Atlanta, he worked for the Concentrics Restaurants Group, serving as chef at both TAP and Trois. Ginsberg was the chef at Bocado from its opening in 2009 until partnering with Jennifer and Ben Johnson and Shelley Sweet to open The General Muir in 2013. Ginsberg, Johnsons, and Sweet "Rye Restaurants" next opened Fred's Meat & Bread and Yalla, both in Krog Street Market (2014), TGM Bread (2016), Wood's Chapel BBQ (2019), and a second location of The General Muir in Sandy Springs (2021). Most recently, Ginsberg and Rye Restaurants collaborated with Thompson Hotels to open Dirty Rascal at the Thompson Buckhead, featuring classic Italian American "red sauce" cuisine (January 2022).
B'teavon Program Development Partner
The Gefilteria (co)LABS
The Gefilteria is a new kind of food venture with a manifesto and a mission to reimagine eastern European Jewish cuisine, launched by Liz Alpern and Jeffrey Yoskowit in 2012, You can find their artisanal gefilte fish online and in stores during major holiday seasons, though their work reaches far beyond a single dish. Their cookbook, The Gefilte Manifesto: New Recipes for Old World Jewish Foods, builds off of their original manifesto with over 100 recipes and stories. Most of the year they're leading immersive culinary workshops and collaborating on dynamic events and media projects. Learn more.
Fun Fact: The Gefilteria co-founder, Liz Alpern, joined us in November of 2022 for Jewish Women's Getaway at Ramah Darom as our Culinary Track Leader.
Also Featuring
Seth Watson, Distillery of Modern Art
Seth Watson, founder of Distillery of Modern Art, the only craft distillery that delivers a full sensory experience by fully weaving artistic expression into every aspect of the brand, at every step along the way. Seth brings expertise in spirit making, cocktail creation and food pairing.
More featured guests coming soon!
Rates & Payment Information
B'teavon all-inclusive rates are based on accommodations per person for 4 days and 3 nights and include delicious kosher meals, snacks and beverages, and all activities.
Accommodation
Per Person Rate
Upgrades
Cabin
$600/person
(ages 18+)
$200/Semi-Private Cabin (minimum 3 people)
$25/Mini Fridge
$25/Keurig
Hotel
$750/person
(ages 18+)
$200/person/Deluxe Private Cottage
$200/Additional Hotel Room
$200/Single Occupancy Fee
Any
$350/youth
(ages 3-17)
Any
$150/infant
(ages 2 and under)
Payment Schedule:
Deposit: $100 non-refundable deposit per adult due at registration
Full Payment Due: January 6, 2023
Cancellation Policy
Cancellations made by January 27, 2023, are eligible for a 50% refund. No refunds will be made on or after January 28, 2023. This policy includes cancellation due to quarantine after exposure or the result of a positive COVID test. Therefore, we strongly encourage Trip Protection Insurance.
Deluxe Private Cottages
There are 4 deluxe private cottages on Ramah Darom's campus and they are our most luxurious accommodations! These beautiful studio-style cottages feature a kitchenette, private porch, bathroom with a walk-in shower, king-sized bed and full-sized pullout couch. Please note that cottages are not ADA accessible and have stair-only access. Rates are based on an upgrade from a double occupancy hotel room.
(To register for a cottage, choose "Hotel" in the registration form and select "Cottage Upgrade". Upgrades are also available to a single-occupancy cottage.)
Hotel Rooms
There are 4 hotels on Ramah Darom's campus. All hotel rooms have a private bathroom, table and chairs, heating and air conditioning, complimentary toiletries, bed and bath linens, a mini fridge and a Keurig. Most hotel rooms have two queen-sized beds and four have a king-sized bed. Rates are based on double occupancy. Upgrades are available to a single occupancy hotel room or a deluxe private cottage. Some connecting rooms are available.
Cabins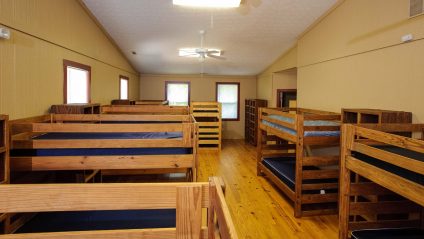 Shared Cabins
Cabins are spacious and nestled throughout the campus. Each cabin offers a dorm-style bunking area, one to two private rooms with two twin beds, shared stalls, showers and sinks. Rates are based on shared cabin space: multi-family, communal or gendered cabins. The private room within each shared cabin is available on a first-come basis.
Semi-Private Cabins
Families with 3 or more individuals may upgrade to a semi-private cabin where each family has their own space separated by a pocket door and a private bathroom.
For all cabins, linens are provided, but beds are not made up.
Ramah Darom brings people of all ages together for exceptional experiences in Jewish living and learning on its 185-acre North Georgia mountain campus. Ramah Darom programs – including summer camp, family camps and year-round experiential retreats – inspire a lifelong love of Jewish values, tradition and community.
Questions?
Please reach out to:
Eliana Leader
Director, Kaplan Mitchell Retreat Center at Ramah Darom
Phone: 678.367.8416
Email: eleader@ramahdarom.org
Venue
Ramah Darom
70 Darom Lane
Clayton, GA 30525