Accommodations
From family-style cabins to quaint cottages and hotel rooms, we'll keep you cozy year-round with a variety of upscale camp-style, comfortable housing options.
Cottages

Cottage with King Bed and Sleeper Sofa

Cottage Kitchen

Cottage Screened in Porch

Marcus Lodge

Marcus Lodge updated standard room

Welcome Center

Deluxe Hotel Room

Lakeside Hotel

Deluxe Hotel Room

Cabins

Cabin open sleeping area

Cabin private room with 2 single beds
Housing Descriptions
There is plenty of space to pitch your tent on our beautiful campus. Spend your days under a shady tree and your nights under a starry sky. Enjoy the great outdoors knowing that a bathroom and shower are just a few steps away.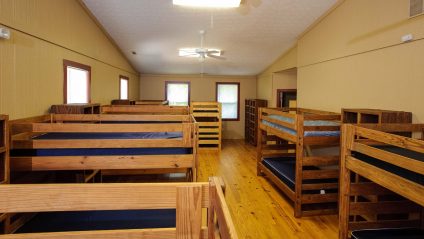 Cabins are spacious and nestled throughout the campus. Each cabin offers a dorm-style bunking area and private twin rooms with shared stalls, showers, and sinks. Linens are provided but beds are not made up. There are two to four separate winterized cabins per building and some offer a large central meeting space. Cabins can accommodate up to 22 guests each. ADA accessible rooms are available.
All hotel rooms have a private bathroom, table, and chairs, heating and air conditioning, complimentary toiletries, and bed and bath linens. These hotels are located up a steep hill with stairs, boardwalk and walking paths to the main areas of the campus. Standard rooms have two queen beds. There are 39 available in our Marcus Lodge and Mountainside Retreat. Some connecting rooms are available. ADA accessible rooms are available. 
Deluxe hotel rooms are larger rooms with either 2 queen beds or 1 king bed, a deluxe tub and a mini-fridge.There are 18 available, including 12 in the Welcome Center and 6 in our Lakeside Hotel. The rooms in the Welcome Center are an easy, flat walk to the Levine Center where meals are served and most indoor activities take place. Some connecting rooms are available. ADA accessible rooms are available. 
All cottages are brand new with a kitchenette, private patio, bathroom with walk-in shower, king-sized bed and sleeper sofa. These beautiful cottages are located on our new boardwalk with both stair and ramp access to the main areas of the campus.