Machzor Gimel
December 15-17, 2023
Machzor Gimel is Ramah Darom's new annual alumni retreat—where Gesher 10-year anniversaries will be celebrated, and alumni have the opportunity to come back home to Ramah Darom (and bring their partners with them, too!).
Registration will close on November 26, 2023.
During this adults-only retreat*, you will experience Ramah Darom like never before, with late-night programs, cocktail/mocktail hours, full reign of all facilities and tons of Camp fun with your fellow alums. Yes, there will be Kabbalat Shabbat, Shirah Shketah ("Sloach"), Havdallah, dancing and all the Camp traditions you expect.
Rates & Payment Information
2023 Rates
Bunk: $180
Hotel Room: $280
Rates are per person and include accommodations, all food & beverage and activities.
If you are staying in a bunk, you can select your preference (stay in a bunk with other male-identifying guests, stay in a bunk with other female-identifying guests, stay in a bunk with people of all genders) and indicate if there are specific people with whom you'd prefer to share your bunk.
Hotel rooms are based on minimum double occupancy. You can indicate if there is a specific person with whom you would like to share your room; otherwise, we will do our best to house you with someone from your Gesher year.

Since most hotel rooms have two queen beds, if you have a couple of friends who are registered in a bunk but you would like to invite to stay in your hotel room, you will be able to provide those details on the registration form. Note that each hotel room must have at least two guests paying the hotel room rate, and you can then invite up to two additional people (who will only be charged the bunk rate).

Full payment is due with registration.
Reservations are cancellable (minus a $50 admin fee) until November 15, 2023.
Payment can be made via credit card, e-check or mailed check. If paying via credit card, a 2.5% fee will be added to cover the processing fees charged to Ramah Darom by the credit card companies. There is no fee to pay via e-check or mailed check. Please ensure mailed checks reach our Atlanta offices by the payment due date indicated.
Cancellation Policy
There are no refunds for cancellations after November 15, 2023. If you have symptoms of illness or believe you have been directly exposed to a communicable disease, we ask that you not attend the program to avoid the risk of transmission to our other guests and staff. We highly recommend purchasing Trip Protection Insurance as we are not able to refund you in the event of a last-minute cancellation.
Bunks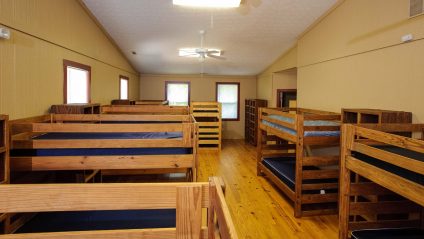 These are the bunks you lived in as a camper! Bunks are spacious and nestled throughout the campus. Each bunk offers a dorm-style bunking area and private twin rooms with shared stalls, showers, and sinks. Bunks rates are based on shared space. Linens are provided, but beds are not made up. The private room within each bunk is available on a first-come, first-served basis.
Hotel Rooms
We have four hotels on our 185-acre campus. All hotel rooms have a private bathroom, a table and two chairs, heating and air conditioning, complimentary toiletries, bed and bath linens, a mini fridge and a Keurig. Some connecting rooms are available. 
Health Protocols & Vaccination Policies
Check-in: Friday, December 15, 2023
L'hitraot: Sunday, December 17, 2023
Ramah Darom is two hours from Atlanta, in Clayton, GA. Please download and print these Driving Directions and bring them with you when you travel. GPS shortcuts can lead you to dangerous mountain roads!
Please use this Packing List as a guide and bring any specific items that you feel are necessary for your health, safety and enjoyment.
Important registration note: You likely already exist in our registration system (although it may be with your old AOL or Hotmail address)!
Before you create a new account to register for Machzor Gimel, try entering your current email address. If we have it in our system, just ask for a password reset on the next screen and you're in! Then click on "New Registration".
If the system doesn't recognize your current email, it will prompt you to create a new family account and you can then register for the program.
If you have any questions, please reach out to retreats@ramahdarom.
*There are plenty of fun-filled opportunities to bring the whole family to one of our fantastic year-round retreats. We can't wait to meet your children and welcome them to their Ramah Darom home!