Jewish Women's Getaway
Relax Your Mind, Rejuvenate Your Body and Fill Your Spirit!
Nov. 10-13, 2019
Join Us at Ramah Darom in the Foothills of the Blue Ridge Mountains for This Annual Women-Only Getaway!
Surrounded by the beauty of nature, we will explore, create, eat, drink, laugh and sing together as well as…
Share delicious meals and craft cocktails with friends, new and old.
Connect to your Jewish spirituality through song, prayer and reflection.
Let your creativity run wild as you create works of art.
Challenge yourself on the ropes course, indulge in relaxation with yoga and massages.
And so much more.
Check out last year's schedule!
Retreat Prices
All-inclusive price is per person for the weekend and is based on accommodations. Price includes all housing, food, drink and activities. 
| HOUSING | 2018 PRICE |
| --- | --- |
| Cabin Housing | $405.00 |
| Standard Hotel - Double Occupancy | $445.00 |
| Standard Hotel - Single Occupancy | $575.00 |
| Deluxe Hotel - Double Occupancy | $490.00 |
| Deluxe Hotel - Single Occupancy | $615.00 |
| Cottage - Double Occupancy | $565.00 |
| Cottage - Single Occupancy | $685.00 |
Airport shuttle is available.
Rabbis in-Residence:
Rabbi Danielle Upbin: Originally from New York City, Rabbi Upbin graduated with honors from Barnard College, Columbia University, with a BA in Political Science and Minor in Theater. She was ordained from the Jewish Theological Seminary of America in 2002 also having received a Masters in Hebrew Letters. She has served as rabbi-in-resident at numerous Conservative congregations around the country, teaching about prayer and leading services. She was also a chaplain in the Disaster Services for the Red Cross after 9/11 in New York City.
In addition to her rabbinic studies, Rabbi Upbin is a professionally trained singer and a past member of the Screen Actors Guild. Leading Jewish prayer in a joyous and soulful manner is one of Rabbi Upbin's passions. Currently, Rabbi Upbin is the Associate Rabbi and Shlichat Tzibur (prayer leader) at Congregation Beth Shalom in Clearwater, FL. She has studied meditation, Hassidism and yoga with the Institute for Jewish Spirituality, among other places, and brings a spiritual and uplifting dynamic to her leadership. She is actively involved in a local Interfaith Coalition, Pinellas County Board of Rabbis, Hadassah, and has served on the board of the Florida Holocaust Museum in St. Petersburg.
Rabbi Upbin resides in Clearwater, FL with her husband, Rabbi David Weizman, and their four children
Rabbi Susan Tendler came to B'nai Zion in August 2012 from Congregation Beth El in Norfolk, Virginia where she served as assistant rabbi with her primary focus being on education and programming since 2007.
Prior to coming to Beth El, Rabbi Tendler served congregations in North Carolina and New Jersey. She received her rabbinical ordination and her masters of education in Informal Jewish Education from the Jewish Theological Seminary in 2004.
Rabbi Tendler grew up in Woodbridge, Virginia. She married Ross Sadoff, in 2006. They now have two daughters.
Housing Descriptions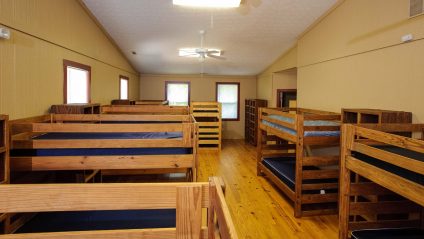 Cabins are spacious and nestled throughout the campus. Each cabin offers a dorm-style bunking area and private twin rooms with shared stalls, showers, and sinks. All cabin rates are based on shared space. Linens are provided but beds are not made up. *Private room within the cabin is available on a first come basis.
All hotel rooms have a private bathroom, table, and chairs, heating and air conditioning, complimentary toiletries, and bed and bath linens. These hotels are located up a steep hill with stairs, boardwalk and walking paths to the main areas of the campus. Standard rooms have two queen beds. Some connecting rooms are available.
Deluxe hotel rooms are larger rooms with either 2 queen beds or 1 king bed, a deluxe tub and a mini-fridge. The deluxe rooms in the Welcome Center are an easy, flat walk to the Levine Center where meals are served and most of the action takes place. Some connecting rooms are available.
All cottages are brand new with a kitchenette, private patio, bathroom with walk-in shower, king-sized bed and sleeper sofa. These beautiful cottages are located on our new boardwalk with both stair and ramp access to the main areas of the campus. There is a minimum of two people per cottage.
Check out our photo gallery to get a taste of the magic.
Need a Ride from the Airport? Click here to reserve your shuttle ride! The cost is $45 each way
Cancellation Policy: All cancellations are subject to a 3% processing fee. Cancellations made after October 1st will be refunded 50% of registration total. No refunds will be made after November 1st.
Contact
Emily Kaiman, Retreat Center Program Manager
Phone: (404) 531-0801 Ext. 9221
Email: ekaiman@ramahdarom.org
Venue
Ramah Darom
70 Darom Lane
Clayton, GA 30525 United States
Phone: (706) 782-9300
Elissa Vessal, FL

"Mountain Air, Perfect Fall Colored Leaves, Cocktails Before gourmet dinner and lots of really fun ladies. Each year I count the days to go back to JWG no different than a kid anticipating summer camp."