Book It To Sukkot with PJ Library
October 14-16, 2022
A fun-filled weekend designed in partnership with PJ Library Atlanta for families with children ages 2-8, where Jewish values are brought to life through the magic of Camp and PJ Library stories.
Please read our Covid-19 Prevention Protocols.
Music and Dancing
PJ Games with Your Favorite PJ Library Characters
Storytime and Scavenger Hunts
Nature Hikes to Our Waterfall
Kid-Friendly Shabbat Services
Arts & Crafts
Parents-Only Evening Activities
And so much more!
Take a look at last year's program guide and photos.
Rates & Payment Information
2022 Rates
All-inclusive rates are per person and include comfortable accommodations, delicious kosher meals, snacks and beverages, and all activities.
Accommodation
Per Person Rate
Upgrades by Registration
Cabin
$125/guest
(ages 3 & up)
$25/Mini Fridge
Hotel
$125/guest
(ages 3 & up)
$100/Additional Hotel Room
$200/Deluxe Private Cottage
Any
$36/infant
(ages 0-2)
Payment Schedule
Due at Registration: A $50 non-refundable deposit for each adult will be processed when the registration application is submitted.
September 16, 2022: Full payment due
Cancellation Policy
Cancellations made by September 30, 2022 are eligible for a 50% refund. No refunds will be made on or after October 1, 2022. This policy includes cancellation due to quarantine after exposure or the result of a positive COVID test. Therefore, we strongly encourage Trip Protection Insurance.
Cabins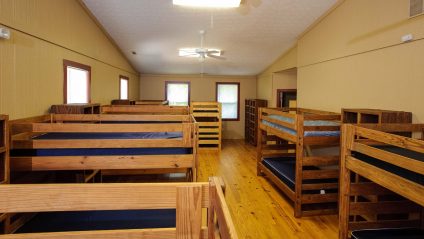 Shared Cabins
There are 2 shared cabins per building and each cabin is shared by 2 families (4 families per building). Each cabin has 2 private rooms, 1 center room with 8 bunk beds and a shared bathroom. The bathrooms have multi-stalls and walk-in showers.
Semi-Private Cabins
There are 16 semi-private cabins on campus available with 4 semi-private cabins per building (4 families per building). These cabins are assigned on a first-come, first-served basis at the same rate as a shared cabin. In a semi-private cabin each family has their own space separated from another family by a pocket door with 1 private room, 1 center room with 4 bunk beds and a private bathroom.
Hotel Rooms
We have 4 hotels on our 185-acre campus. All hotel rooms have a private bathroom, a table and two chairs, heating and air conditioning, complimentary toiletries, bed and bath linens, a mini fridge and a Keurig. Most rooms have 2 queen beds, a few have 1 king bed or 2 full beds. If there are a minimum of 3 people in your household and you would like an additional hotel room as an add-on you can do so for a $100 flat rate per household. Some adjoining rooms are available.
Deluxe Private Cottages
There are 4 deluxe private cottages on Ramah Darom's campus and they are our most luxurious accommodations! These beautiful studio-style cottages feature a kitchenette, private porch, bathroom with walk-in shower, king-sized bed and full-sized pullout couch. If you would like to upgrade from a hotel to a cottage you can do so for a $200 flat rate per household. Please note that cottages are not ADA accessible and have stair-only access.
2022 Musician in Residence
More information coming soon.
Vaccination Policy & COVID-19 Protocols
Vaccination Policy
Ramah Darom requires that all guests and visitors, including children of all ages, follow the vaccination requirements recommended by the Center for Disease Control's Advisory Committee on Immunization Practices. Note that not all states have the same requirements, but ALL vaccinations recommended by the ACIP are required at Ramah Darom Retreats.
Retreat registration forms will ask guests to certify that they, and all members of their immediate family attending a Retreat, meet all immunization requirements. We will not require guests to submit their medical records except in exceptional circumstances.
COVID-19 Protocols
Every Ramah Darom retreat attendee, guest and staff member is required to get a pre-arrival Covid PCR test in the 72 hours before arriving at the Ramah Darom campus AND take an at-home Covid rapid test on the day of arrival. We also strongly encourage all retreat attendees and guests ages 6 months and older to be up to date on their Covid vaccinations. Full Covid-19 Protocols for this retreat can be found here.
Questions?
Contact: Rebecca Guttman, Guest Relations & Sales Associate
Phone: 470.231.0792
Email: rguttman@ramahdarom.org
Venue
Ramah Darom
70 Darom Lane
Clayton, GA 30525
Here are more ways to experience Ramah Darom as a family:
Winter Break Family Camp, Camp for the whole family with counselor-led adventures, a magical Shabbat and a rockin' New Year's Eve; Summer Family Camp, family fun and a Camp test drive while Summer Camp is in session; Camp Yofi for families with children with Autism Spectrum Disorder.