Book It To Sukkot with PJ Library
Save the Date: October 14-16, 2022
A fun-filled weekend during Sukkot, perfect for families with young children 8 and under, where the magic of Camp and PJ Library characters are brought to life. This program also includes a PJ Our Way Track for older siblings, ages 9-12!
Please note, all individuals aged 5 years and older must be fully vaccinated against Covid-19 prior to arriving on our campus. Please see our COVID-19 Prevention Protocols.
Music and Dancing
PJ Games with Your Favorite PJ Library Characters
Storytime and Scavenger Hunts
Nature Hikes to Our Waterfall
Kid-Friendly Shabbat Services
Arts and Crafts
Playtime in Sammy Spider's "web"
Parents-Only Porch Parties
Check-in: 3:00-5:00pm
Check out: 11:00am
Rates & Payment Information
All-inclusive rates are per person and include all meals, snacks, drinks and activities. 
A $50 non-refundable deposit for each adult will be processed when the registration application is submitted. Payment is due in full 1 month before the program start date.
2021 Rates
Guests ages 2 and older $118
Guests under 2 years $36
Additional hotel room $100
Mini-Fridge $25
Pack N' Play FREE
Cancellation Policy: Cancellations made prior to two weeks before the program are eligible for a 50% refund. No refunds will be made within two weeks of the program's start date. This policy includes cancellation due to quarantine after exposure or the result of a positive COVID test. Therefore, we strongly encourage Trip Protection Insurance.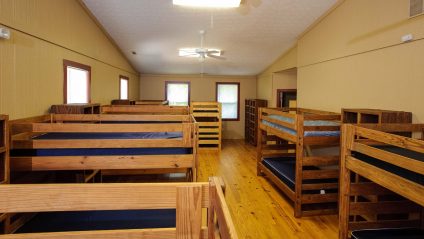 Cabins: All of our cabins are heated, have ceiling fans and feature a spacious, screened-in porch. Cabins are camp-style, with a private room for parents and the main room for kids, with a bathroom of multiple stalls, showers, and sinks. Linens and towels are provided for our cabin guests.
Hotels: Ramah Darom has 4 hotels on site. All hotel rooms have a private bathroom, table and chairs, heating and air conditioning, complimentary toiletries, and bed and bath linens. Most rooms have 2 queen beds, a few have 1 king bed or 2 full beds. If there are a minimum of 3 people in your party and you would like a separate hotel room for your children, you may request a next-door room for an additional $100.
2021 Musician in Residence
Michael Levine is a singer-songwriter & music geek who loves to create & inspire.
He is a prolific creator with 4 CDs as a singer-songwriter and 6 CDs for children through his music & movement company The Learning Groove.  In the studio, he produced the music for the NY Times bestselling Pete The Cat picture books by Eric Litwin & James Dean.  In concert he moves effortlessly between heartfelt folk tunes, silly sing-alongs & just rockin' out, creating community and leaving his audiences inspired to learn & grow.  And don't forget the gadgets!  He uses iPads, iPods, foot pedals, screens, projectors, his guitar & percussion loops on stage while singing out loud or soft, telling musical stories and getting the crowd to join in together.  
Look through our photo gallery to get a taste of the magic.
[/accordion]
Immunizations & Other Policies
Immunization Policy
Guests attending a Ramah Darom Retreat must provide confirmation that they have read the Ramah Darom Immunization Policy and are up-to-date on all required vaccinations. Retreat registration forms will ask guests to certify that they, and all members of their immediate family attending a Retreat, meet all immunization requirements. We will not require guests to submit their medical records except in exceptional circumstances.
Note that not all states have the same requirements, but ALL vaccinations recommended by the ACIP are required at Ramah Darom Retreats.
Covid-19
Ramah Darom requires all attendees, staff and visitors who are eligible to be vaccinated against COVID-19 to complete full vaccination two weeks prior to the beginning of the program they are attending. This includes the Covid booster where indicated.
Please also see our COVID-19 Prevention Protocols.
If you receive a positive COVID-19 test result in the days leading up to the retreat and are unable to attend, we are unfortunately not able to refund your payment due to upfront costs. Therefore, we highly recommend purchasing Trip Protection Insurance.
Pet Policy
Please note that NO pets of any kind may join you for your stay onsite, for any length of time.
Ramah Darom is two hours from Atlanta, in Clayton, GA.
Questions?
Contact
Rebecca Guttman
Guest Relations & Sales Associate
Phone: 470.231.0792
Email: rguttman@ramahdarom.org
Venue
Ramah Darom: 70 Darom Lane, Clayton, GA 30525
Here are more ways to experience Ramah Darom as a family:
Winter Break Family Camp, Camp for the whole family with counselor-led adventures, a magical Shabbat and a rockin' New Year's Eve; Summer Family Camp, family fun and a Camp test drive while Summer Camp is in session; Camp Yofi for families with children with Autism Spectrum Disorder.