Passover Retreat 2021
This year's all-inclusive, family-friendly, kosher for Passover retreat has everything you need to have a safe, meaningful, fun and relaxing vacation.
March 26-April 5, 2021
About the 2021 Passover Retreat
There is nothing like celebrating Passover at Ramah Darom. Take in the beauty of our breathtaking 185-acre campus in the North Georgia mountains. Enjoy fresh, gourmet, kosher for Passover meals and snacks, prepared for you in our AKC-certified kitchen by our team of expert chefs. Seize the unique opportunity to learn and explore Jewish life, culture, texts and history with a diverse mix of distinguished scholars, leaders and thinkers. Throughout the week we will also offer a variety of physically-distanced programs, leisure activities and scholarly lectures to choose from.
As always, we are committed to the safety of our guests while providing a meaningful, quality experience.
What makes this year different from all other years?
This year's program has been adapted to ensure the health and safety of our guests through a series of COVID-19 prevention policies and procedures. These measures were developed under the guidance of our Medical Committee and are in alignment with the CDC guidelines and Georgia Department of Public Health.
Activities & Amenities
In addition to a variety of facilitated experiences, there will be many self-guided activities and DYI projects that our staff has created for you to enjoy on your own. Facilitated programming will have limited space available to ensure safe distancing.
Hike to a waterfall, bike around campus, play a game of tennis, boat on the lake. Jam-pack your days with activities or spend them lounging around.
Engage in Jewish life and learning
Sign up for a family archery lesson
Enjoy yoga or sign up for a personal training session
Get creative in an art class
Hike through the Blue Ridge Mountains
Have fun with our many DIY projects
Boat around the lake
Roast marshmallows and make kosher for Passover s'mores
Utilize our resource guide to plan fun family and camp-style activities
Take advantage of WiFi throughout campus
Health & Safety
All guests are expected to adhere to the conduct as outlined in our Health & Safety Protocols (link coming soon) and will be asked to sign a Health & Safety Protocol Agreement Form.
In order to follow CDC guidelines and ensure a safe environment for everyone in our community, while on campus we will require that you maintain physical distancing with anyone outside your own household or pod.
For the purpose of this retreat, a household is defined as those who, outside of Ramah Darom, live together in the same home. A household may share a hotel room or cabin space onsite. Two or more households may together create a pod that will function as an extended "Passover family." Request forms to create a pod must be submitted and approved by Ramah Darom staff before the retreat. Pods will mutually determine prior to arrival how to minimize exposure in each household before coming together on site.
Read our Covid-19 prevention protocols. (Link coming soon.)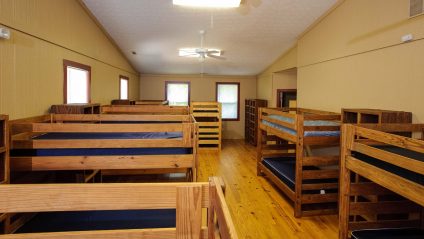 Our cabins are modern, spacious and feature hardwood floors with a screened-in porch and bathroom(s) for each cabin. Each cabin has both an open area with dorm-style bunk beds and a private room with twin beds.
Deluxe Cabin

Only four of these are available, in our newest cabin building and fully ADA accessible with 1 private room, 1 main room with 4 bunk beds, and a private bathroom area with walk-in shower(s). This building is located on the mountainside of campus. Available for parties of 2 adults and 1 child or more.
Single Family Cabin
These cabins are separated by a sliding wall and are available on the lakeside of campus, 1 private room, 1 main room with 4 bunk beds, and a private bathroom area with walk-in showers per cabin. Available for parties of 2 adults and 1 child or more.
Comfortable, private rooms, each with 2 queen or full beds, table & chairs, bureau, and private bathtub shower with standard amenities. We have two standard hotel buildings, Marcus Lodge (ML) and Mountainside Hotel (MSH), both located on the mountainside. Families of up to 4 people will be housed in one hotel room with 2 queen beds. If a family of 5 or more paying guests would like an adjacent room for their children, each parent will be charged at a Single Adult Occupancy rate.
Bright, oversized rooms with relaxing, communal lobby and upgraded amenities. Rooms feature 1 king or 2 queen beds, table & chairs, bureau and private bath (some walk-in, most are deluxe size bathtub showers). These sell out fast! We have two deluxe hotel buildings, The Welcome Center (WC) and Lakeside Hotel (LS). Those with physical disabilities and mobility issues will be given priority in the Welcome Center. Each room is priced per adult occupancy. Families of up to 4 people will be housed in one hotel room with 2 queen beds. If a family of 5 or more paying guests would like an adjacent room for their children, each parent will be charged at a Single Adult Occupancy rate.
Our most luxurious accommodations! Beautiful studio-style houses with a kitchenette, private patio, bathroom with walk-in shower, and king-sized bed. Four 1-bedroom cottages are available, and there is one 2-bedroom cottage available. The 2-bedroom can be reserved as either two single adult rooms, one single and one double adult, or two double adults.
Rates & Payment Information
Reserve now before we fill up! Reservations are processed in the order received.
PASSOVER AT RAMAH DAROM 2021 RATES
To pay by check: Please pay to the order of Ramah Darom, write "Passover 2021" in the memo section, and mail to Ramah Darom, attention Deanne Brown, 6400 Powers Ferry Road, Suite 215, Atlanta, GA 30339
Payment Schedule:
January 15, 2021 – 100% of total registration due.
Reservations can only be guaranteed if payments are received by the deadlines above.
Note for Returning Guests:
Registration opens exclusively for ALL 2020 returning guests from April 16th until May 1st. Full stay returning guests can guarantee their same housing location for 2021 until May 1. While we cannot guarantee exact room locations for returning half stay guests, they will receive priority housing consideration. General registration will open to the public on May 1.
EARLY BIRD PRICING is available until June 1st for new and returning guests. All guests registering after June 1, whether on a new or existing reservation, will be charged at the standard rates.
---
Payment Policies:
Guest stays are sold for the full Passover holiday (March 26 – April 5, 2021) only. Guests are welcome to leave on the date that serves them best, but we are unable to prorate registration for any unused dates within the reservation time.
Any guest added to a reservation after June 1, 2020 will be charged at the rates posted above.
Any credit card payments made after December 1, 2020 will incur a 2.5% fee.
---
Cancellations:
Cancellations must be submitted in writing, with refunds will be honored on the following schedule:
December 2, 2020 – January 15, 2021: 50% of total registration fee is non-refundable.
Cancellations after January 15, 2021: No refunds.
We strongly recommend the purchase of travel insurance for your deposit and reservation in case of changed plans or unanticipated cancellations to receive a refund for deposits or reservations after any cancellation policy dates. We are happy to assist all guests in procuring trip protection/travel insurance.
Immunization Policy
Guests attending a Ramah Darom Retreat must provide confirmation that they have read the Ramah Darom Immunization Policy and are up-to-date on all required vaccinations. Retreat registration forms will ask guests to certify that they, and all members of their immediate family attending a Retreat, meet all immunization requirements. We will not require guests to submit their medical records except in exceptional circumstances.
Note that not all states have the same requirements, but ALL vaccinations recommended by the ACIP are required at Ramah Darom Retreats.
Covid-19 Vaccine – We do not expect all guests to have received the COVID-19 vaccine by the 2021 Passover retreat as is not yet widely available.
Staff Gratuities
Staff gratuities are intended as supplemental compensation for our hard-working part-time seasonal staff (waiters, kitchen staff, housekeeping, shuttle drivers, etc.), all of whom work long hours at hourly rates. Your final Passover invoice will include a line item for staff gratuities in the amount of 2.5% of your reservation total. This is a minimum guarantee, but guests are always welcome to leave additional gratuities.
Pet Policy
Please note that NO pets of any kind may join you for your stay onsite, for any length of time.
Highlighted Artists & Educators
More information coming soon.
More information on transportation to and from Ramah Darom coming soon.
Contact
Becca Guttman, Guest Relations Coordinator
Phone: 470.231.0792
Email: rguttman@ramahdarom.org
Check out this video "Moadim L'Simcha (Joyous Holiday)" created at a Passover Retreat