Pardes Beit Midrash B'Darom
Join the Pardes Institute of Jewish Studies at Ramah Darom for an unforgettable 4 days of inspiring learning, community building and innovative programming.
President's Day Weekend
Be inspired by beloved Pardes faculty from Jerusalem; enjoy classes, participate in lively havruta (paired learning), and experience transformative programming in a beautiful environment.
This year we will be offering a special Jewish Professionals track which will include tailored workshops and hands-on training.
This retreat welcomes Pardes and Ramah alumni & friends, Jewish Professionals, Day School Educators, newcomers and their families.
Why Pardes? Click here for a flash of inspiration from our Beit Midrash.
Retreat Starts: Fri., Feb. 15, 2019
Retreat Ends: Mon., Feb 18, 2019
Interested in joining us? Click "Add Me!" below and be the first to know when registration is open!
Pardes is an open, co-ed and non-denominational Jewish learning community, based in Jerusalem and with programs worldwide.
Students encounter and grapple with classic texts and traditions of Judaism, while exploring their relevance to today's most pressing issues.
Pardes empowers students with the knowledge and tools to take ownership of their Jewish experience.
Diversity is at the core of Pardes and students represent a broad spectrum of the Jewish world. The result is a vibrant community constantly engaged in honest, dynamic and constructive debate leading to serious personal reflection and growth.
About The Director of Education for Pardes
Rabba Yaffa Epstein serves as the Director of Education, North America for the Pardes Institute of Jewish Studies. She received Rabbinic Ordination from Yeshivat Maharat and holds a Law Degree from Bar-Ilan University. She has studied at the Pardes Kollel, the Advanced Talmud Institute at Matan and the Talmud Department of Hebrew University.
Yaffa has been a teacher of Talmud, Jewish law, and Liturgy at Pardes for over a decade, and has served as the Director of the Beit Midrash at the Dorot Fellowship in Israel. She has taught Talmud and Jewish Law at Yeshivat Maharat, The Wexner Heritage Program, The Drisha Institute and Young Judaea. Yaffa has lectured at Limmud Events around the world, has written curriculum for the Global Day of Jewish Learning and has created innovative educational programming for Hillel: The Foundation for Jewish Campus Life.
Housing Descriptions
There is plenty of space to pitch your tent on our beautiful campus. Spend your days under a shady tree and your nights under a starry sky. Enjoy the great outdoors knowing that a bathroom and shower are just a few steps away. Bathrooms and showers will be available for use in designated areas.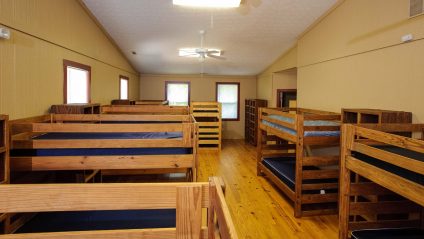 Cabins are spacious and nestled throughout the campus. Each cabin offers a dorm-style bunking area and private twin rooms with shared stalls, showers, and sinks. Individuals will be placed in a gendered cabin. Linens are provided but beds are not made up. *Private room within the cabin is available on a first come basis 
All hotel rooms have a private bathroom, table, and chairs, heating and air conditioning, complimentary toiletries, and bed and bath linens. These hotels are located up a steep hill with stairs, boardwalk and walking paths to the main areas of the campus. Standard rooms have two queen beds. Some connecting rooms are available. 
Deluxe hotel rooms are larger rooms with either 2 queen beds or 1 king bed, a deluxe tub and a mini-fridge. The deluxe rooms in the Welcome Center are an easy, flat walk to the Levine Center where meals are served and most of the action takes place. Some connecting rooms are available.
All cottages are brand new with a kitchenette, private patio, bathroom with walk-in shower, king-sized bed and sleeper sofa. These beautiful cottages are located on our new boardwalk with both stair and ramp access to the main areas of the campus. There is a minimum of two people per cottage. 
Prices
Check back soon!
Contact
Emily Kaiman, Retreat Center Program Coordinator
Phone: (404) 531-0801 Ext. 9221
Email: ekaiman@ramahdarom.org
Venue
Ramah Darom
70 Darom Lane
Clayton, GA 30525 United States
Phone: (706) 782-9300