Pardes Beit Midrash B'Darom
The 2nd Annual Pardes and Ramah Darom Immersive Learning Retreat
President's Day Weekend, Feb. 15-18, 2019
Join the Pardes Institute of Jewish Studies at Ramah Darom for an unforgettable 4 days of inspiring learning, community building and innovative programming.
This retreat welcomes Pardes and Ramah alumni & friends, Jewish Professionals, Day School Educators, newcomers and their families.
Be inspired by beloved Pardes faculty from the U.S. and Israel
Enjoy classes and participate in lively havruta (paired learning)
Experience transformative programming in a beautiful environment
Connect with friends, new and old
2019 Topic
Building Civil Dialogue in a Fragmented World: Arguments for the Sake of Heaven
Many of us experience our civil relationships as in crisis:  the seemingly impassible American political divide, the growing disconnect between diaspora and Israeli Jews, and the ironic loneliness of a hyperconnected social media world.  The Jewish tradition of makhloket leshem shamayim, arguments for the sake of heaven, gives us a tool for healing as well as a lens through which to understand more deeply the many issues dividing us today.
**New Jewish Professionals Specialty Track, including tailored workshops and hands-on training! ** See below for more information about this exciting opportunity and discounts.
Special Offers: JumpSpark ATL is offering a scholarship of $235 per person, for Jewish educators in Atlanta (see Jewish Professional Track for more information). Students of the MJCC Lisa F. Brill Institute of Jewish Learning Melton School use coupon code MELTON for a 10% discount off of registration!
Pardes is an open, co-ed and non-denominational Jewish learning community, based in Jerusalem and with programs worldwide.
Students encounter and grapple with classic texts and traditions of Judaism while exploring their relevance to today's most pressing issues.
Pardes empowers students with the knowledge and tools to take ownership of their Jewish experience.
Diversity is at the core of Pardes and students represent a broad spectrum of the Jewish world. The result is a vibrant community constantly engaged in honest, dynamic and constructive debate leading to serious personal reflection and growth.
Pardes Faculty In-Residence
Rachel Dingman is the Assistant Director of Hillel at Penn State University. Rachel grew up in Dingman's Ferry Pennsylvania. Rachel has her B.A from Allegheny College in Philosophy and Psychology and her M.A in Organizational Leadership and Non-Profit management from Quinnipiac University. She served 2 years in AmeriCoprs with Maine Campus Compact working on service learning and community building between college campuses and local towns. Rachel spent 5 years at Allegheny College as an Assistant Director of Admissions and the Hillel Director. After realizing that Jewish education was her path–Rachel spent 2 years in Israel at the Pardes Institute of Jewish Studies learning Jewish texts, exploring Israel, and getting a certificate in Jewish Experiential Education. During those 2 years, she spent her summer as the JCC Chizuk Fellow and Director of Jewish Life at Camp Sabra. She is a passionate educator, a lover of the outdoors, and in her free time, you can find her on the roller derby track!
Rabba Yaffa Epstein serves as the Director of Education, North America for the Pardes Institute of Jewish Studies. She received Rabbinic Ordination from Yeshivat Maharat and holds a Law Degree from Bar-Ilan University. She has studied at the Pardes Kollel, the Advanced Talmud Institute at Matan and the Talmud Department of Hebrew University.
Yaffa has been a teacher of Talmud, Jewish law, and Liturgy at Pardes for over a decade, and has served as the Director of the Beit Midrash at the Dorot Fellowship in Israel. She has taught Talmud and Jewish Law at Yeshivat Maharat, The Wexner Heritage Program, The Drisha Institute and Young Judaea. Yaffa has lectured at Limmud Events around the world, has written curriculum for the Global Day of Jewish Learning and has created innovative educational programming for Hillel: The Foundation for Jewish
Rabbi Zvi Hirschfield teaches Talmud, Halakha and Jewish Thought at Pardes. In addition, Zvi is a faculty member of the Pardes Center for Jewish Educators and has been training and mentoring Jewish Educators for over ten years in Tefilah in educational settings, critical issues in modern Jewish thought, and Israel education.
Zvi holds a B.A. in History from Columbia University and did graduate work at Harvard University in Medieval and Modern Jewish Thought. He studied at Yeshivat Har Etzion in Israel and has rabbinic ordination from the Chief Rabbinate of Israel. He was the director of Judaica at the JCC of Cleveland and an instructor at the Cleveland College of Jewish Studies for many years. He also serves as a curriculum writer and is involved in staff training for the Nesiya Institute. His wife, Dina, is a faculty member of the Hebrew University School of Public Health, and they have four children.
Rabbi Dr. Meesh Hammer- Kossoy teaches Talmud and the Social Justice Track at Pardes. Originally from Washington, D.C., Meesh has a B.A. in Near Eastern and Judaic Studies from Brandeis University, and a M.A. and Ph.D. from New York University. Her dissertation explored the courageous manner in which the rabbis of the Talmud created a new criminal punishment system. In 2015, Meesh completed her studies at Beit Midrash Har'el and received ordination from Rabbi Herzl Hefter and Rabbi Daniel Sperber.
Meesh is also a graduate of NATIV, Pardes, Midreshet Lindenbaum, MaTaN, Drisha, and ATID. She has received many fellowships including Lady Davis, National Foundation for Jewish Culture, Memorial Foundation and ATID. She has also taught at NYU, Drisha and Midreshet Lindenbaum.
Despite having written her dissertation about criminal punishment in the Talmudic period, Meesh is known by her husband and three children as a lover of mercy and kindness.
Rabbi Keilah Lebell, a Pardes alum and former Judaics teacher at Ramah Darom, was recently ordained by the Ziegler School of Rabbinic Studies in Los Angeles. She currently works as the Jewish Emergent Network Rabbinic Fellow at IKAR, a progressive, social-justice driven community in Los Angeles. R' Keilah met her husband Rabbi Sam Rotenberg on their first day of classes at Pardes in 2012! They are blessed with two precious children, Meir and Della.
Rabbi Sam Rotenberg is an assistant rabbi at Sinai Temple in Los Angeles, CA. He both grew up at Ramah Darom, and studied at Pardes for the year program, and could go on for a while about how amazing both communities are. Rabbi Rotenberg met his wife, Rabbi Keilah Lebell at Pardes, and both received ordination at the Ziegler School of Rabbinic Studies in Los Angeles in 2018. He is a musician, an Eruvin-enthusiast, and father of two.
Campus Life.
Jewish Professionals Track
The Jewish Professionals Track will be run by Rachel Dingman, Assistant Director of Penn State Hillel. This track is designed to ensure that you are balancing your personal learning experiences and the practical applications of our studies back into your profession. The cohort of Jewish Professionals will have a debrief session each day, specialized learning from each of the educators, and a hands-on educational design workshop. We hope that you will walk away with a new cohort of colleagues, meaningful personal Jewish experiences, and tools you need to be successful in your work.
Jewish Educators and Engagement professionals who are currently working in the Jewish community are eligible for a discounted rate. There are a limited number of discounts.
Attention Atlanta Residents: JumpSpark ATL is offering a scholarship of $235 per person, for Jewish educators in Atlanta. Use code JUMPSPARK. There are a limited number of scholarships available.
JumpSpark connects the community and collaborates to create more meaningful and defining moments for Jewish teens in Atlanta, their families, and the educators and professionals that work with them.
"Ramah Darom and Pardes are the two institutions that made me the Jew I am today. These are the institutions that propelled me toward rabbinical school. They are the institutions I hope my kids are someday involved with. I met my wife at Pardes, and I made my closest friends at Ramah Darom. I fell in love with Judaism at Ramah Darom, and expanded that love in the Pardes beit midrash. The fact that it took Pardes to bring me back to Ramah, and Ramah to bring me back to Pardes is, for me and my wife, almost poetic." 
-Rabbi Sam Rotenberg, Los Angeles
Housing Descriptions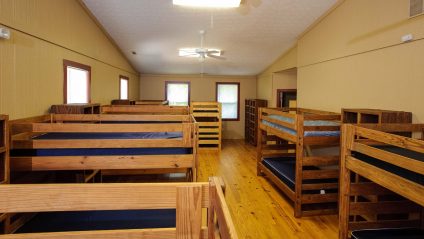 Cabins are spacious and nestled throughout the campus. Each cabin offers a dorm-style bunking area and private twin rooms with shared stalls, showers, and sinks. Individuals will be placed in a gendered cabin. Linens are provided but beds are not made up. *Private room within the cabin is available on a first come basis 
All hotel rooms have a private bathroom, table, and chairs, heating and air conditioning, complimentary toiletries, and bed and bath linens. These hotels are located up a steep hill with stairs, boardwalk and walking paths to the main areas of the campus. Standard rooms have two queen beds. Some connecting rooms are available. 
Deluxe hotel rooms are larger rooms with either 2 queen beds or 1 king bed, a deluxe tub and a mini-fridge. The deluxe rooms in the Welcome Center are an easy, flat walk to the Levine Center where meals are served and most of the action takes place. Some connecting rooms are available.
All cottages are brand new with a kitchenette, private patio, bathroom with walk-in shower, king-sized bed and sleeper sofa. These beautiful cottages are located on our new boardwalk with both stair and ramp access to the main areas of the campus. There is a minimum of two people per cottage. 
Prices
Full Stay Prices
| Housing | Adults | Kids 3-17 | Kids NB-2 |
| --- | --- | --- | --- |
| Cabin: Group or Multi-Family | $275/per person | $150 | FREE |
| Cabin: Single Family | $299/per person | $150 | FREE |
| Cabin: Single Family Deluxe | $360/per person | $150 | FREE |
| Standard Hotel: Single Occupancy | $540/per person | $150 | FREE |
| Standard Hotel: Double Occupancy | $399/per person | $150 | FREE |
| Deluxe Hotel: Single Occupancy | $650/per person | $150 | FREE |
| Deluxe Hotel: Double Occupancy | $540/per person | $150 | FREE |
| Cottage: Double Occupancy or more | $600/per person | $150 | FREE |
One Night Only Prices
| Housing | Adults | Kids 3-17 | Kids NB-2 |
| --- | --- | --- | --- |
| Cabin: Based on Availability | $180/per person | $75 | FREE |
| Standard Hotel: Single Occupancy | $250/per person | $75 | FREE |
| Standard Hotel: Double Occupancy | $225/per person | $75 | FREE |
| Deluxe Hotel: Single Occupancy | $300/per person | $75 | FREE |
| Deluxe Hotel: Double Occupancy | $275/per person | $75 | FREE |
Retreat Starts: Fri., Feb. 15, 2019
Retreat Ends: Mon., Feb 18, 2019
The retreat will begin around 1pm on Friday, February 15. Shuttles will be available to pick up participants from the Hartsfield-Jackson Atlanta International Airport (ATL) at 11am on Friday, and available after the retreat to take people back to the airport.
Why Pardes? Click here for a flash of inspiration from our Beit Midrash.
Contact
Emily Kaiman, Retreat Center Program Coordinator
Phone: (404) 531-0801 Ext. 9221
Email: ekaiman@ramahdarom.org
Venue
Ramah Darom
70 Darom Lane
Clayton, GA 30525 United States
Phone: (706) 782-9300