LimmudFest
Relax, reflect, and celebrate with Limmud Atlanta & Southeast at Ramah Darom
Labor Day Weekend
LimmudFest at Ramah Darom is a celebration and festival of Jewish thought, arts, culture, life, learning, and teaching. Join us in the North Georgia mountains with hundreds of Jews from all walks of life, all Jewish backgrounds, all lifestyles, and all ages for a full schedule of workshops, discussions, arts, music, performances, text-study sessions, yoga, hiking, and more.
A weekend to remember!
Sessions exploring Jewish perspectives on culture, food, politics, history, and more
A magic Shabbat in the foothills of the Blue Ridge Mountains
Multiple prayer and spirituality options available
Limmud Gan / Camp Ramah @ Limmud – up to age 12
Havdalah around the campfire
Sunday night Gala musical performance
Flip through our photo gallery to get a taste of the magic.
Housing Descriptions
There is plenty of space to pitch your tent on our beautiful campus. Spend your days under a shady tree and your nights under a starry sky. Enjoy the great outdoors knowing that a bathroom and shower are just a few steps away. Bathrooms and showers will be available for use in designated areas.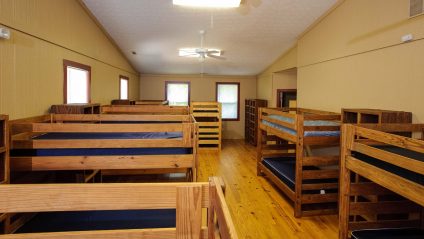 Cabins are spacious and nestled throughout the campus. Each cabin offers a dorm-style bunking area and private twin rooms with shared stalls, showers, and sinks. All cabin rates are based on shared space. Linens are provided but beds are not made up. * The private room within each gendered and communal cabin is available on a first come basis. 
All hotel rooms have a private bathroom, table, and chairs, heating and air conditioning, complimentary toiletries, and bed and bath linens. These hotels are located up a steep hill with stairs, boardwalk and walking paths to the main areas of the campus. Standard rooms have two queen beds. Some connecting rooms are available. 
Deluxe hotel rooms are larger rooms with either 2 queen beds or 1 king bed, a deluxe tub and a mini-fridge. The deluxe rooms in the Welcome Center are an easy, flat walk to the Levine Center where meals are served and most of the action takes place. Some connecting rooms are available.
All cottages are brand new with a kitchenette, private patio, bathroom with walk-in shower, king-sized bed and sleeper sofa. These beautiful cottages are located on our new boardwalk with both stair and ramp access to the main areas of the campus. There is a minimum of two people per cottage.
LimmudFest is a partnership program between Limmud Atlanta & Southeast and The Kaplan Mitchell Retreat Center at Ramah Darom.
Check-In: Friday, August 30, 2019, 2 pm
Check Out: Monday, September 2, 2019, 2 pm
Contact
Emily Kaiman, Retreat Center Program Coordinator
Phone: 404.531.0801 Ext. 9221
Email: ekaiman@ramahdarom.org
Venue
Ramah Darom
70 Darom Lane
Clayton, GA 30525 United States
Phone: (706) 782-9300
Whitney Kweskin, GA

"Ramah Darom is a breath of calm in a busy, confusing world. It has also been a place of beginnings for me: Limmud was my first introduction to the Atlanta Jewish community, it was the birthplace of the chavura I'm a part of now, and Ramah Darom was where my husband and I were married and began our life together. I would say it's pretty important to both of us, and we look forward to returning as often as possible as a family."